Discover more from Unstatable
A newsletter about the Clippers.
Buying Access
On Steve Ballmer's Inglewood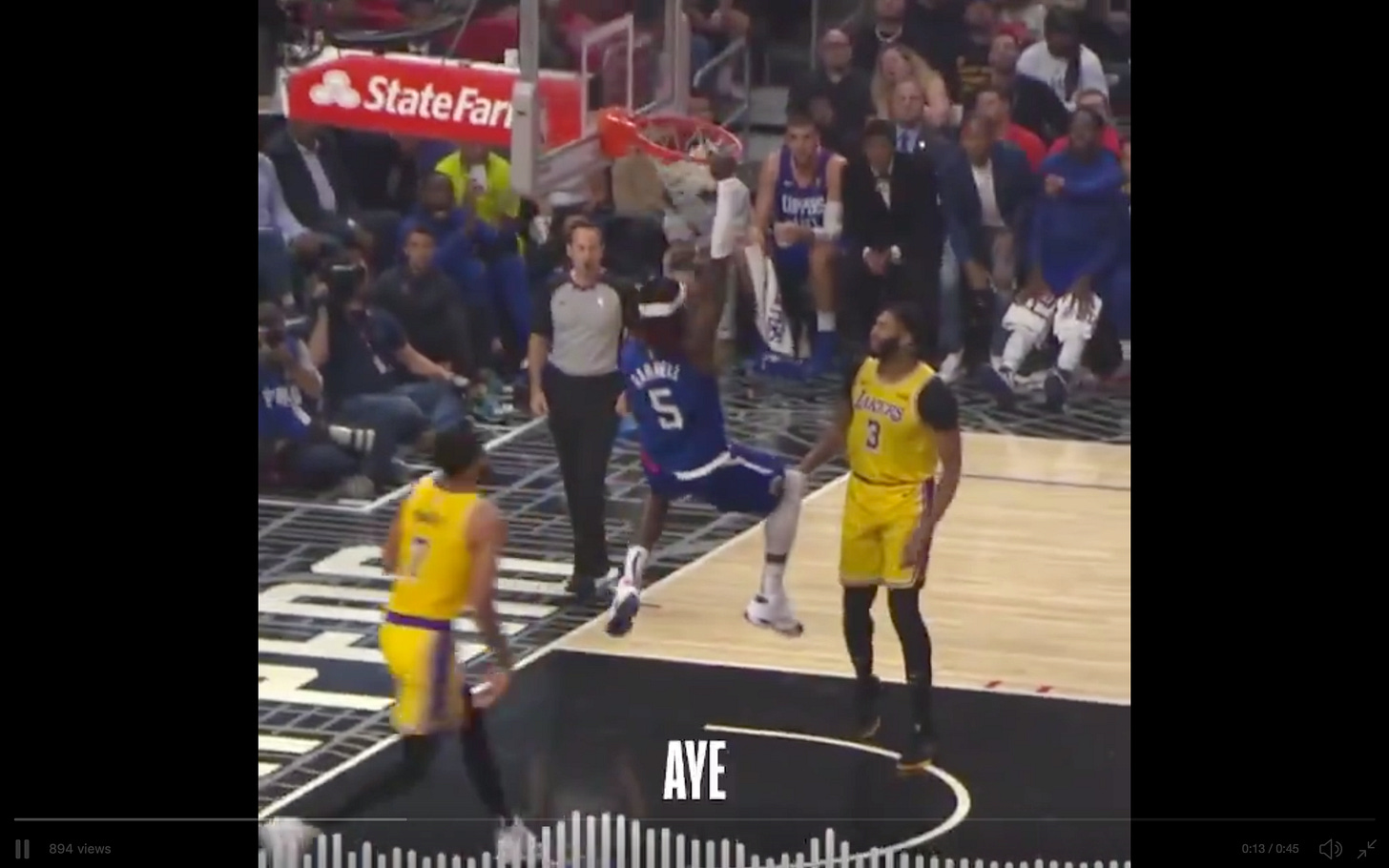 This week the Clippers announced that Wealthiest Owner In American Sports Steve Ballmer bought the Forum from The Madison Square Garden Company for $400 million in cash. Ballmer created a new limited-liability corporation, CAPSS, for the purpose. Another Ballmer-owned LLC, Murphy's Bowl, had been embroiled in a lawsuit with MSG and Inglewood over the Clippers' plans to build a new arena on land appropriated from the company by the city. (Murphy is Steve Ballmer's dog.) The sale settles the dispute and presumably will clear the way for the arena's construction.
Look, I can't even tell you how many problems I could make go away with four hundred million dollars, because I try to avoid serious number-crunching in this newsletter as much as possible. I did do some math, though. Steve Ballmer spending 400 mil on a big, beautiful legal settlement is like someone with the net worth of a smart, handsome, currently-looking-for-opportunities writer buying new luggage, which is something that this particular one did, right before the coronavirus made landfall in Los Angeles County, nullifying all travel plans for the foreseeable future. (5,000 Inglewood Forums = 1 coronavirus relief package.)
Now that Ballmer owns the building where the Lakers used to play, he will have 7,500 people get to work on the Inglewood Basketball and Entertainment Complex, the Clippers' golden parachute out of Staples Center. In the meantime, the stated plan is to continue operating the popular concert venue as if nothing has changed, but once it's built, the Forum can schedule Tame Impala concerts around the Clippers' Saturday night home games. In any other town this coordination might be considered anti-competitive, but in Inglewood no one likes Tame Impala or the Clippers, so maybe it's a wash.
The story of people being displaced for the sake of pro sports teams is sadly well-worn. For example, you may have heard that a neighborhood of Mexican immigrants was displaced so that Dodger Stadium could be built in Chavez Ravine. (I've just begun a fascinating new book called Stealing Home that weaves together the stories of the people on all sides of that tragic event, so it's on my mind.) Nevertheless, sports teams continue to evict people, and they already are in Inglewood — either actively through eminent domain, or more passively through gentrification. The Rams and Chargers are moving to Inglewood, too, and their new stadium caused speculative rent increases there at least a year before the Clippers announced any plans.
While Steve Ballmer has earmarked another $100 million for a community-benefit agreement in Inglewood, it's unclear how or when that money will get to residents — or if it will at all, especially considering that the most vulnerable will have to leave long before the arena gets built. This is to say nothing of Inglewood mayor James Butts, whose record is spotted with corruption and who is currently being sued for harassment by a former aide and ex-girlfriend who made $342,000 when she was in the city's employ.
The Clippers may look at a move to Inglewood as the path to corporate self-determination. It should be pointed out, though, that corporate self-determination does not care about you at all, and that moving to Inglewood will come at the expense of not just their own residents, but also of many fans. Staples Center is in arguably the most accessible location in the city, at the convergence of several freeways and two major rail lines (the A and E lines), not to mention the countless bus routes that run down Pico and Figueroa boulevards. (I take the 733 to Staples.) For all the publicity around the arena being carbon-neutral, it's going to require driving to get there for virtually everyone who plays, works, or watches games there; the light rail station closest to the site is over a mile away.
Yes, there is absolutely appeal in the idea of THE CLIPPERS ARENA (probably named like THE VENMO DOME or THE CASHAPP CENTER or something like that. THE PURELL FIELDHOUSE ). As a young fan I dreamed of taking pictures at the Ralph Lawler statue and seeing Elton Brand's jersey hanging in the rafters. I hated being outnumbered by Bulls, Celtics, Warriors and of course Lakers fans at Clippers home games. News flash — there's nothing stopping those people from going to the new arena, too. I would not take a third Inglewood pro sports complex (Forum, Clippers, Rams Stadium) in a housing crisis, and anyone who would, doesn't get how bad that crisis is.
Maybe the coronavirus will cause a big enough recession that the arena plans will get scuttled. That seems like blowing on dandelions, though. The campaign to make the Clippers the same as every other team by making them better than any other team continues. Quarantined in my apartment while any NBA player with a sore throat can get tested, I'm thinking I really don't want to hear about grittiness ever again.
---
Blog Roll
Stealing Home∙ Same Old Clippers Pod ∙ Take It Or Break It ∙ Bad Photojournalism ∙ Sports Stories ∙ Bachletter ∙ Basketball Feelings ∙ Ersan Ilyasova Charge Bot ∙ RealGM Analysis ∙ The Second Arrangement ∙ Crane In Search Of Man ∙ The Shocker ∙  My Motherfucking LinkedIn Page ∙  Roundball Rock ∙ Fastbreak Breakfast ∙ Mouse House Books ∙ NBA4Free ∙ Giri's Racquet Newsletter ∙ Dreem Team Survivor Recap