Doing it with blocks
Who said Lou Will couldn't play defense?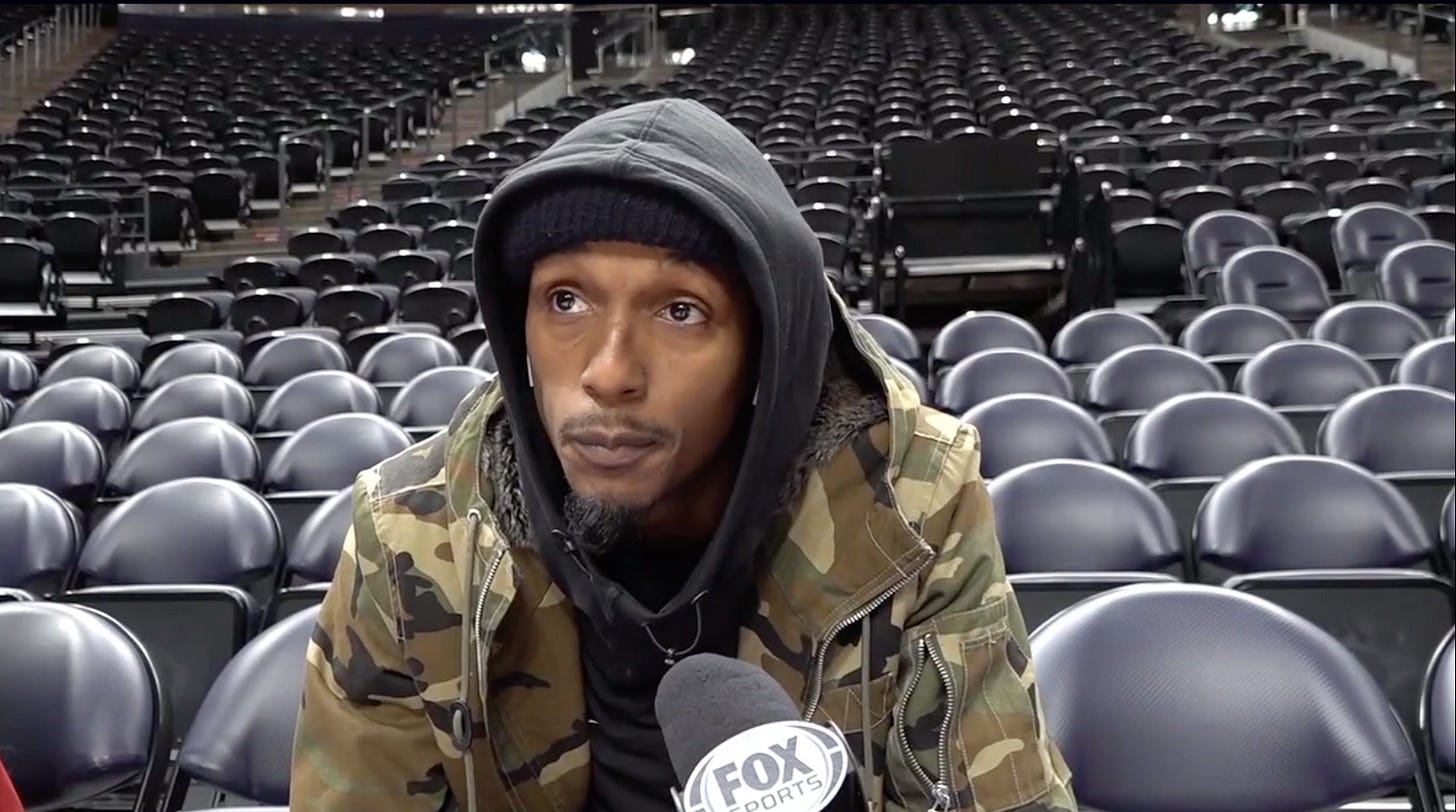 Your sharing Unstatable helps new readers discover it. If you like it, pass it along.
---
Emphatic Rejection
"Block or charge?" –Rex Chapman
A couple weeks ago, Patrick Beverley ignored one of my questions in a small postgame scrum. It was unpleasant, and it caught me off guard, but it was neither personal nor the end of the world. I asked him another question a minute later, he replied thoughtfully, and life continued for both of us.
It occurred to me afterward: Had it been Lou Williams, and not Patrick Beverley, who crumpled up my offering and dunked it in a trash can, it would have wrecked my shit completely. I would have had to retire from writing about the NBA, maybe stop watching the game entirely. Look, if you're not cool with Pat, you might just be dribbling a basketball at that moment; if you're not cool with Lou, you probably need to reevaluate major life decisions.
This train of thought led me to the realization that in fact, tons of people have been dismissed by Lou Williams in exactly this way, because Lou Williams blocks more people on social media than perhaps anyone in the world. A quick search for "unblock me @TeamLou23" turns up scores of tweets — tweets, mind you, that the author knows are futile, because their intended recipient is blocked from seeing them. There are countless more users who never bothered to tweet their dismay into the unhearing abyss.
Lou is an equal-opportunity blocker. He blocked Zach Lowe on Twitter, the #LeagueFits account on Instagram, and so many others that by now he has only a vague sense of how long the list is, who's on it, or how they got there. The only thing he knows for sure is he isn't done growing it.
I was curious to see if there was life after death for people who were blocked by @TeamLou23, so I went fishing for their stories.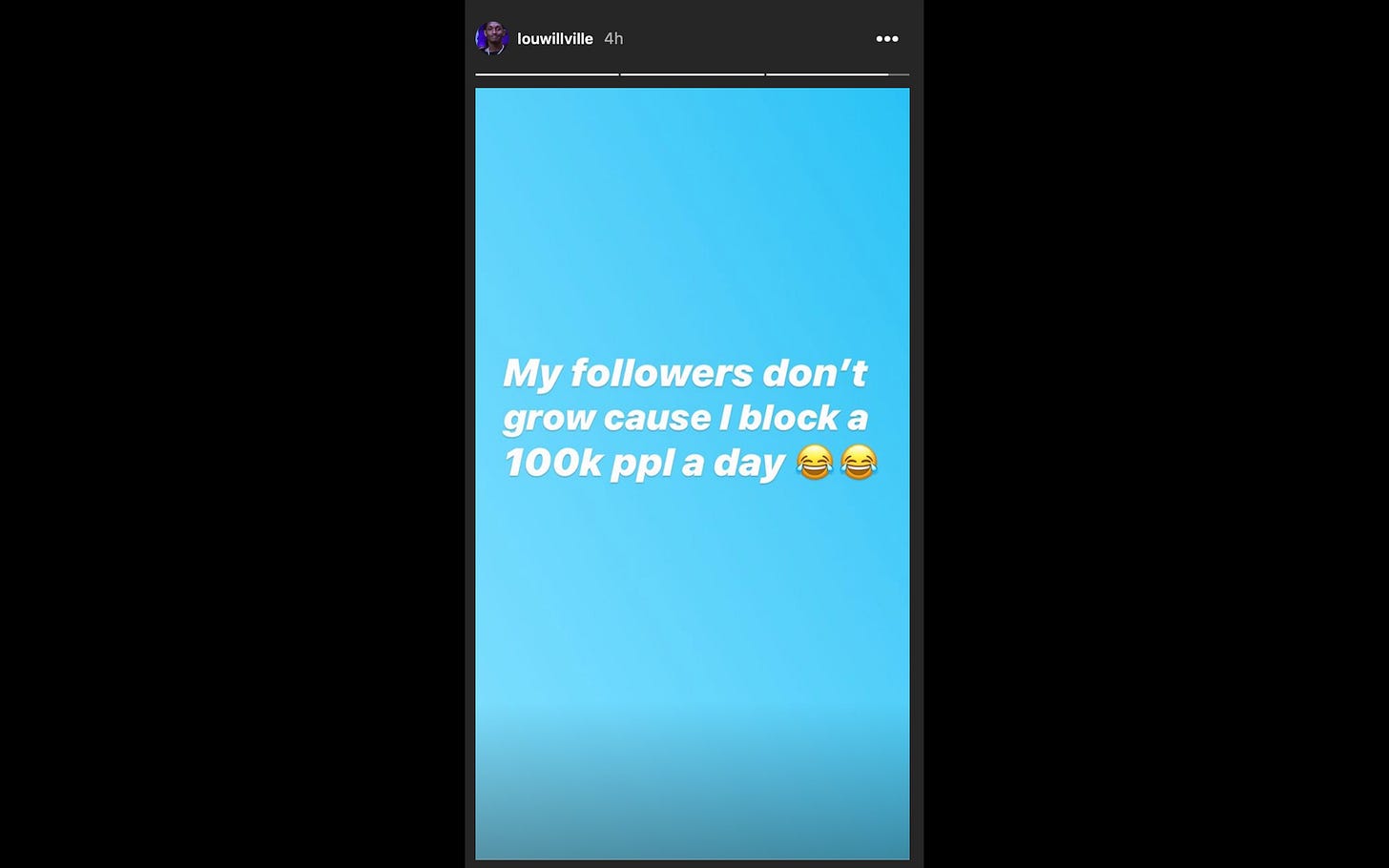 Vince Chevalette caught the old fronthand-backhand in 2011, back when Lou Will played for his beloved Sixers. "He was releasing music with Meek [Mill] and I think he tweeted something about being in the studio," Chevalette told Unstatable via DM. "I told him he should be in the gym instead because obviously we weren't good then."
And that was a rap. Upon realizing his fate, "I just thought it was funny," Chevalette said.
I unearthed the offending tweet. It wasn't even Chevalette's line that got him banned — it was his friend's.

Lou was generous enough to respond before making like the Y button in 2K. "The studio/bowling alley/mall etc don't stop me from doing my job. He's never done my job so he can't tell me how to do it," wrote the Underground GOAT.
Chevalette said he doesn't regret standing up for his boy or telling a professional athlete to get in the gym. "The Sixers were bad at the time," he said. "And Lou was supposed to be the guy."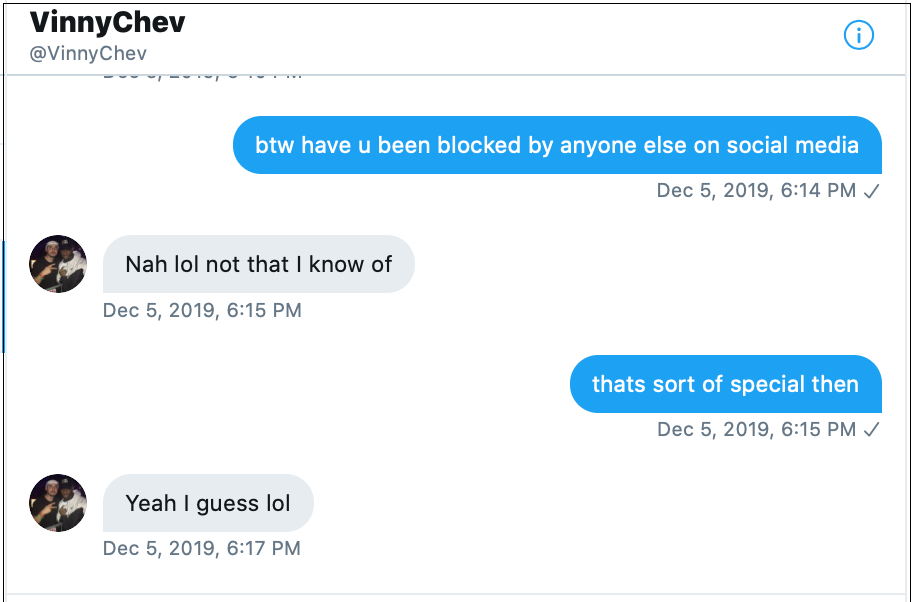 ---
Lou Will doesn't suffer fools on the timeline, but he does chill on the platform more than the average pro. The rules of engagement are not that complicated; as is generally the case in human social interaction, try not to be uncouth. That means:
Don't pry…

…and don't call people Somalian.

It was neither nosiness nor a Captain Phillips reference that got Victor Bazan, Jr., punted from Lou's mentions. "There was a game he missed a game winner on the Lakers," Bazan said over DM. "I'm a huge Lakers fan so I tweeted him 'Lou next time don't take a game winner, you suck.' Next thing I know I was blocked."
What he tweeted wasn't actually that bad — from here it just looks like a DJ Khaled meme — just raw. It was sent from a glass case of emotion, his iPhone. "Die hard lakers fan, games like that hurt," Bazan said. "That was the second game winner that season he missed and it was a bad shot."
Who would he have preferred take that shot instead, from that roster? "Nick Young," he said. "He already hit one that season he 'stole' from Lou at the beginning of the season."

Ryne Prinz, a Bucks fan, said Lou blocked him out of nowhere — Prinz hadn't even been in his mentions. "Maybe it was this dumbass tweet," he said, linking to one that read Andre Roberson: Lou Williams stopper. "That's literally the only post it could be."
Only one other athlete had blocked him on Twitter, Prinz said: Tiffany Hayes of the WNBA's Atlanta Dream. Like his Lou Will tweet, Prinz's Hayes tweet did not tag the player, meaning the offending tweet likely came up in a search the player did on their own name.
You hate to get blocked by @TeamLou23 not only because it reflects poorly on your character and decorum, but also because Lou's a good follow. He chops it up with fans, talks shit, recommends music, and gives his audience a peek into how a universe's most relaxed man maintains.
"I wasn't sad but was just like wow this guy really blocked me," Bazan, the Laker fan, said. "But then it gets frustrating when I want to see some of his viral tweets and can't."
Most blocked people Unstatable talked to denied campaigning to get unblocked, but of course, they had been sourced through tweets that said "unblock me @TeamLou23."
Damien Wilson at least got his money's worth when Lou blocked him on Instagram. In 2015, while Williams was with the Toronto Raptors, the rapper Meek Mill, a longtime Lou Will collaborator, accused Canadian singer and Raptors superfan Drake of employing ghostwriters, setting off a volley of diss tracks by the two artists. Lou was traded not long after the beef.
"He posted a photo with Meek Mill a month or so after the trade," Wilson told me. "So I commented 'haha stupid this is why Drake got you traded, and got soooooo many likes and comments on it. Then he blocked me."
Obviously, he had no way to know that his reply, one of over a hundred on that post, would blow up. "I just be commenting stupid shit for fun," Wilson said. His attempt to use Twitter to plea for a reversal got him blocked there, too.
Nevertheless, he persisted. Last year, Wilson used his then-girlfriend's phone to make a last-ditch appeal to be unblocked. "[Lou] responded 'I'm not unblocking him but that was a good try,'" Wilson said.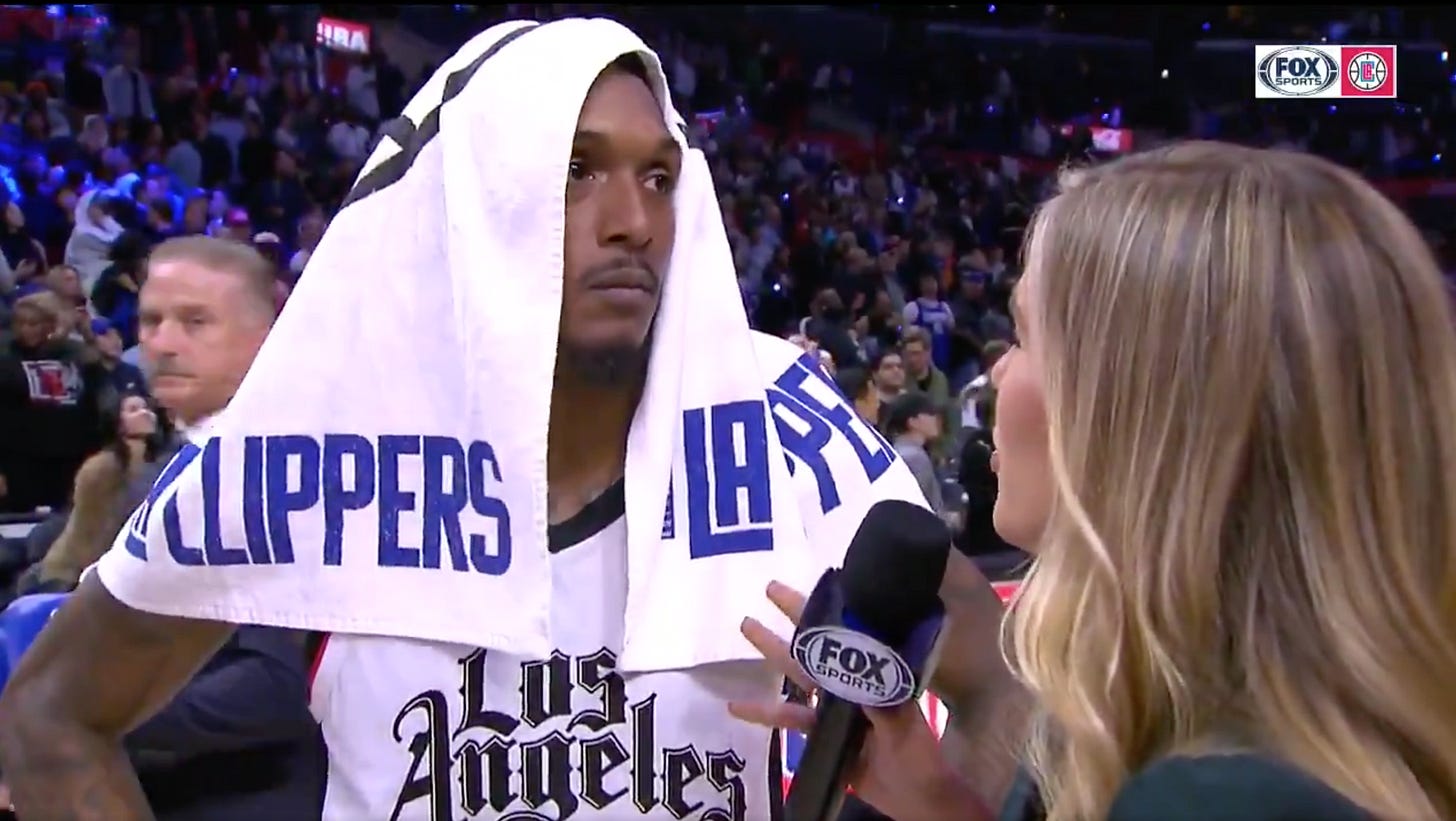 The common thread among the people who now live in the giant shadow of Lou's block list is an absence of hard feelings. "I was a fan. Still am," said Wilson. "He's too cool," said Prinz, the Bucks fan. "If anything I feel ashamed."
"Not gonna lie either, he had some fire tracks with Meek too lol," said Chevalette, who told Lou to get back in the gym.
---
Though he smites unsparingly, Lou does live by a code. Like an executioner soliciting last words before dropping the blade, in the beginning he gave people a chance to say their prayers. (Now he blocks far too many people to even let them know he's doing it.)

In a way, being blocked by Lou Williams might be comforting, because it confirms he saw you. Even a silent block registers his disgust, an emotion you — yes, you — actually generated. Ultimately, stans like Colin McGowan and hecklers like Da Cake Boss are after the same thing, and Lou has obliged legions of them with the recognition, however fleeting, that they exist.
Bazan, the Lakers fan, admitted as such. "It doesn't feel good I'm blocked. However, I think it's really cool NBA players do acknowledge heckling and respond to people."
In the future, Bazan said he would still heckle, but his experience had taught him restraint. "Strictly booing," he said, "because they are an elite group of ballers."
Postscript
This week, two major institutions that have given shine to my work over the years announced their imminent shuttering. First, the podcast Take It Or Break It is coming to a close at the end of this year. Corbin Smith, who founded and hosted it, was one of the first people who shared my work online when I started writing about sports, and TIOBI is the first podcast I was a guest on. He's also endorsed me on LinkedIn. (Have you?) I love reading Corbin's hoops writing — it's hilarious, expansive and wholly original. Right now he's doing a newsletter that contains lovely photos of frolicking animals and manic ruminations on the lives they lead beside us. It's called Bad Photojournalism, and I've forwarded it to my parents every week for the past two weeks.
Still, I'm going to miss listening to and battling on TIOBI.
Second, it looks like this is the end of Clips Nation, which has been the only consistent blog about the team since the end of TrueHoop, as we know it. Other people have written about the travesty of these Vox layoffs. I'm going to use this space, though, to shout out Robert Flom, who has been writing for and editing the site on a daily basis for the past few years. The number of hours he has logged for this hardly-paid project just so Clipper fans could have good coverage and a place to panic together is mind-bending. He's also been enormously helpful getting Unstatable in front of you, and he's also an A1 guy. He and co-editor Lucas Hann are gonna start a bigger, more dynamic venture than Clips Nation. Soon, I hope, because I can't wait to support it.
BLOG ROLL
Same Old Clippers Pod (New!) ∙ Bad Photojournalism ∙ Sports Stories ∙ Ersan Ilyasova Charge Bot ∙ RealGM Analysis ∙ The Second Arrangement ∙ Bachletter ∙ Crane In Search Of Man ∙ The Shocker ∙ Take It Or Break It ∙ Basketball Feelings ∙ My LinkedIn Page ∙ Roundball Rock ∙ Fastbreak Breakfast ∙ Mouse House Books ∙ NBA4Free ∙ Unstatable on Twitter
New here? Take the Unstatable subscriber survey!
---
I'm doing Unstatable out of love, and so I can get more (paid!) work writing about the NBA. If you this piece did something for you, reward me! Share it, retweet it, follow me, or tell a friend. You can also support this newsletter by throwing down for one of these nearly sold-out Unstatable stickers.
I also love hearing from readers. To reach out, reply to this email.