Discover more from Unstatable
A newsletter about the Clippers.
I promise you we tried
Seeking moral victory with this season's Clippers
Remember this?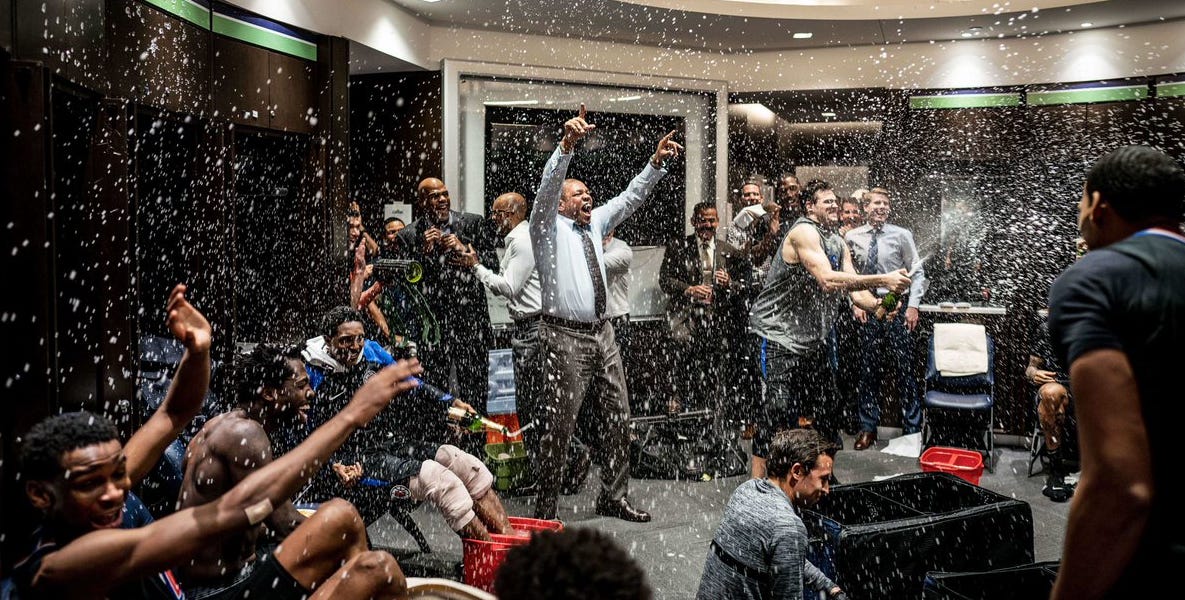 Sent to their fateful offseason by the two-time defending champs last May — courtesy of one Kevin Durant reminding the world that he was, in fact, Kevin Durant — the Clippers did not hang their heads. How could they?
"I promise you we tried."
That was what Lou Williams said, when asked how Durant got them for 50. Tip your hat to a great player. They had a game plan. They had coverages. They tried. And —
"It didn't work."
That was Pat Beverley, who the Clippers have ached for in the last three games, chiming in.
They had a reason to be content. They'd had their champagne, see above, and they didn't need to win a playoff series to have accomplished something special. Clipper bloggers hadn't even penciled them in for a win. They got two, including a 31-point comeback, the game of their lives. They tried and they tried and they tried and finally they ran into Kevin Durant and whoever else the Warriors have — apparently there's another Curry and he plays for Golden State? — and it didn't work.
In the offseason, the Clippers went from being the team that ran into the Kevin Durants of the NBA to a team that fielded two in their starting lineup. In Kawhi Leonard and Paul George the Clippers have as good a star pairing as any in the game.
Alas, one year later (plus four pandemic months, United States death toll now at 177,000), the Clippers, now a 2-seed, have run into Luka Doncic! And all the questions that were about Kevin Durant last year are now about him. And can the Clippers even say I promise you we tried?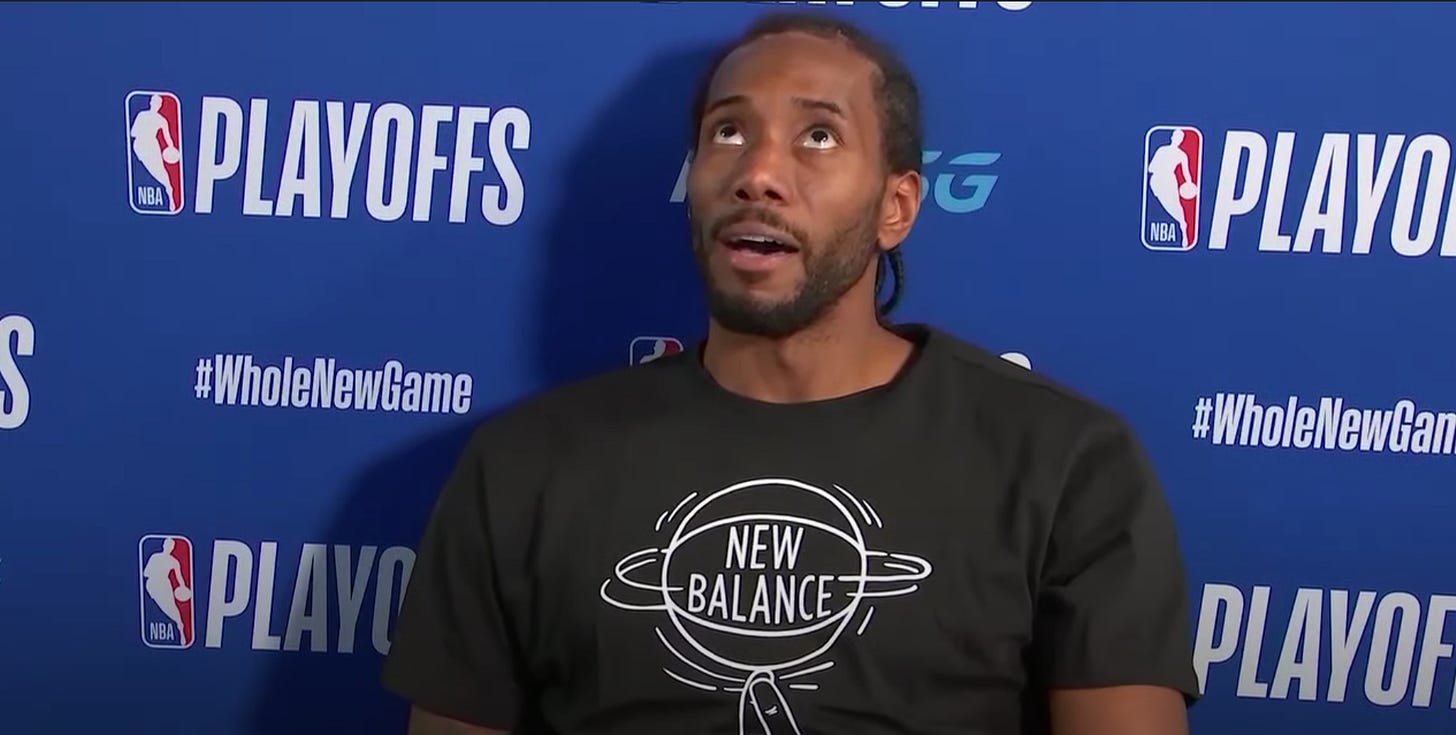 This has been the defining question for the Clippers since media day. Can championship favorites keep their underdog teeth? About halfway through the season Doc Rivers got sick of that question. (Edited to add this quote, thanks Mirjam!)
They hadn't kept their canines, and they weren't growing them. They seem to discover them for Laker games, but that was it. This team wasn't going to manufacture a chip on their shoulder. They were going to have to find another way.
To this day, they haven't, and it has culminated in what Rivers is calling his "emotionally very weak" team looking lost, slow, and finally shocked by a Luka bomb at the final horn that was the stuff of justice, not miracle. Doncic went for 43-17-13, adjectives are on you. It's not just Doncic though — it's a whole roster emboldened by its star's heroics and by an opponent that is waiting for wins to arrive. Seth Curry, undrafted, pretty good though for one of those feisty guards, has not missed all series. Trey Burke, not on an NBA roster this season, signed by the Mavs on July 1, is playing like the second coming of Allen Iverson while wearing throwback AI sneakers. (He's a delight.) The Clippers have had no answer to these small guards, let alone the small tank, Luka Doncic, and I think Reggie Jackson is trying, and Lou Williams and Landry Shamet are trying, but these are three of the worst defensive guards in the NBA and without Pat it is hard to see these howling spirits restored to their bottle.
The Trying part is on possessions where the Clippers spend long stretches looking like what people who complain about college basketball say college basketball looks like. It's dying on every screen. It's giving up layups on baseline out of bounds plays. Paul George has said he'd rather go 0 for 30 than 0 for 9, and while I would prefer he go 0 for 9, what he actually did was go 3 for 13 and turned invisible on the defensive end. Astonishingly, the all-NBA defender is incapable of locking up barely-NBA Trey Burke, let alone all-universe Luka Doncic; that Playoff P and Kawhi are not fighting over the latter assignment is probably the surest red flag about this team.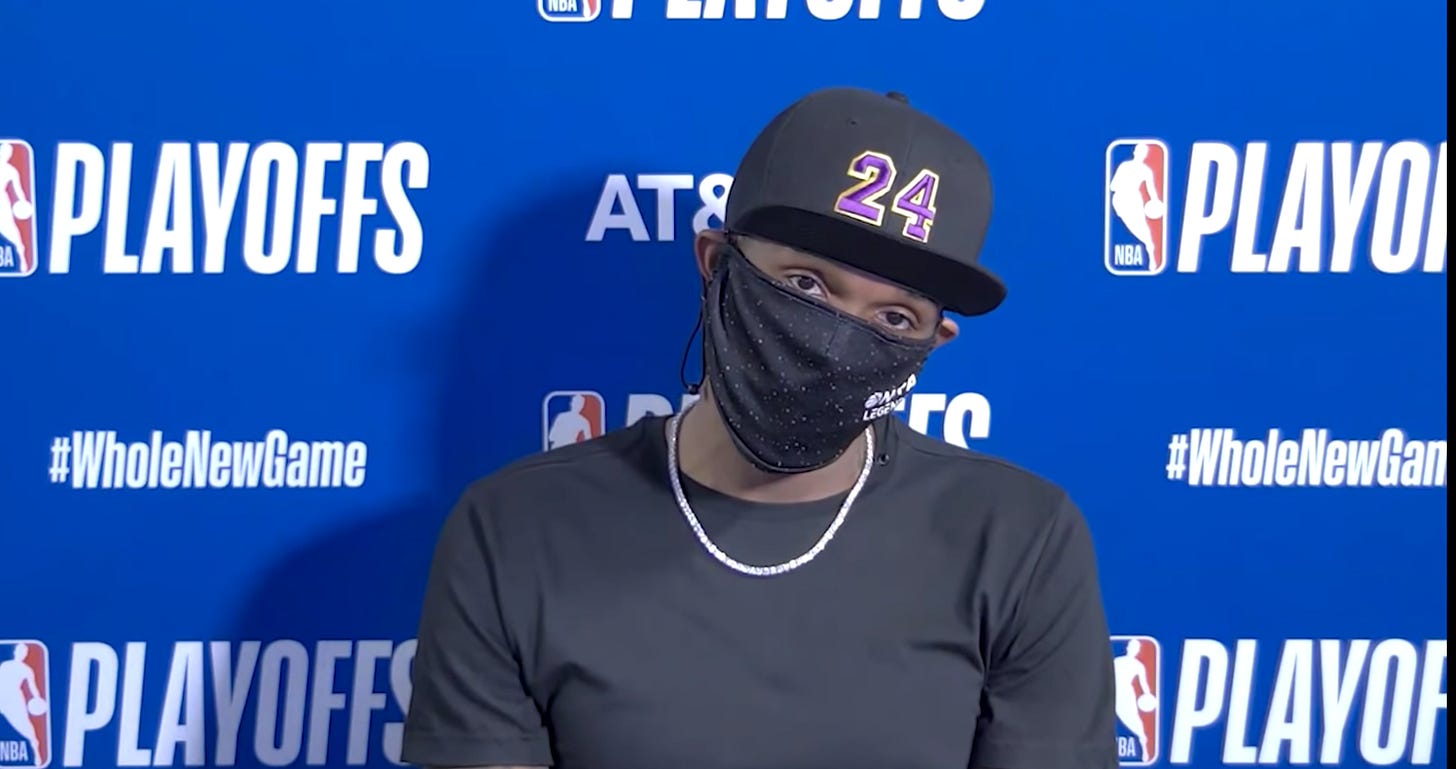 This Clipper roster is taller, stronger, and more physical than the Mavericks', even moreso with Kristaps Porzingis sidelined. Do the Mavericks have a rim protector to speak of? Salah Mejri is not walking through that door. Where are the Clippers? They should be making whole meals at the rim. They are, instead, settling. Burke is getting to the rim at will.
Shai Gilgeous-Alexander would be wonderful to sic on the Maverick ballhandlers, but we're not here to talk about random guys on other teams.
Marcus Morris, for all the crap he gets, has been playing hard. So has Reggie Jackson. Lou Williams has been that dude all series. Paul George will show up. He's too good not to. Or he won't, and they'll look for the spark next year.
Back when the Clippers sucked, a recurring feature of their seasons was the moral victory. We hated the moral victory because it meant the Clippers were overmatched, because it wrung consolation out of heartbreak when you just wanted to be sad. Process over results!
But man, if this team doesn't make me miss the moral victory. I find it hard to stress about this team. "Kawhi will provide," I say, as they blow a 21-point lead. "They always flip a switch," I say, as they begin a new, three-game series against the hottest basketball player on the planet. But I find it even harder to be inspired by them. They're not a superior team exerting their will, teaching the game to a lesser opponent. They're not a scrappy challenger giving it their best shot. They're just a rudderless ship, still one with enough firepower to take this series, sure, but not much more than that, and even then: why bother?
The rest of this series will give the Clippers, individually and as a group, a true measure of themselves. So here's a reminder that taking care of business is good, and just as morally invigorating as an upset victory or valiance in defeat. It may not feel as exciting when you're expected to do it. It might actually feel harder! That's sports, that's life, that's taking the garbage out when it's your turn. But that is the riddle the Clippers have to solve. Nothing less than their season depends on it, and nothing more.
---
Blog Roll
Unstatable ∙ Random NBA Plays ∙ Sideshow Books(Delivering to LA!) ∙ Stealing Home ∙ Same Old Clippers Pod ∙ QuarantineCast with Corbin Smith ∙ Bad Photojournalism ∙ Sports Stories ∙ Bachletter ∙ Basketball Feelings  ∙  RealGM Basketball Analysis ∙ The Second Arrangement ∙ Crane In Search Of Man ∙ The Shocker ∙  My Motherfucking LinkedIn Page ∙Fastbreak Breakfast ∙ Prada's Pictures ∙ Roundball Rock ∙ Giri's Racquet Newsletter ∙ Amazing Blaze ∙ Dreem Team Survivor Recap ∙ In Good Faith ∙ Entrepreneurship Today ∙ Jad's Dad Milo∙ Mouse House Books