It's Coming Home
Mfiondu Kabengele, others return to where it all started
Welcome to Unstatable, a newsletter by Louis Keene about the 2019-20 LA Clippers. Warning: this issue contains RAPTOR NEWS! Also in this issue: 1,284 rocks.
---
Housekeeping
I defended Nikola Jokic's honor over at RealGM. The Ersan Ilyasova Charge Bot is now live. The Clippers lost a game, so there's a new #SameOldClippers pod out. More stickers are in the mail. Tweet a pic when you get yours, I wanna see them out in the wild. Also, join the Unstatable channel on Discord. (Thanks to reader Michael C. for the idea.)
And if you're new here, take the five-question Unstatable subscriber survey.
---
Are Clipper Fans A Nationality Or Merely A Nation?
"I got two more smiles for you, then it's gametime." –Shai Gilgeous-Alexander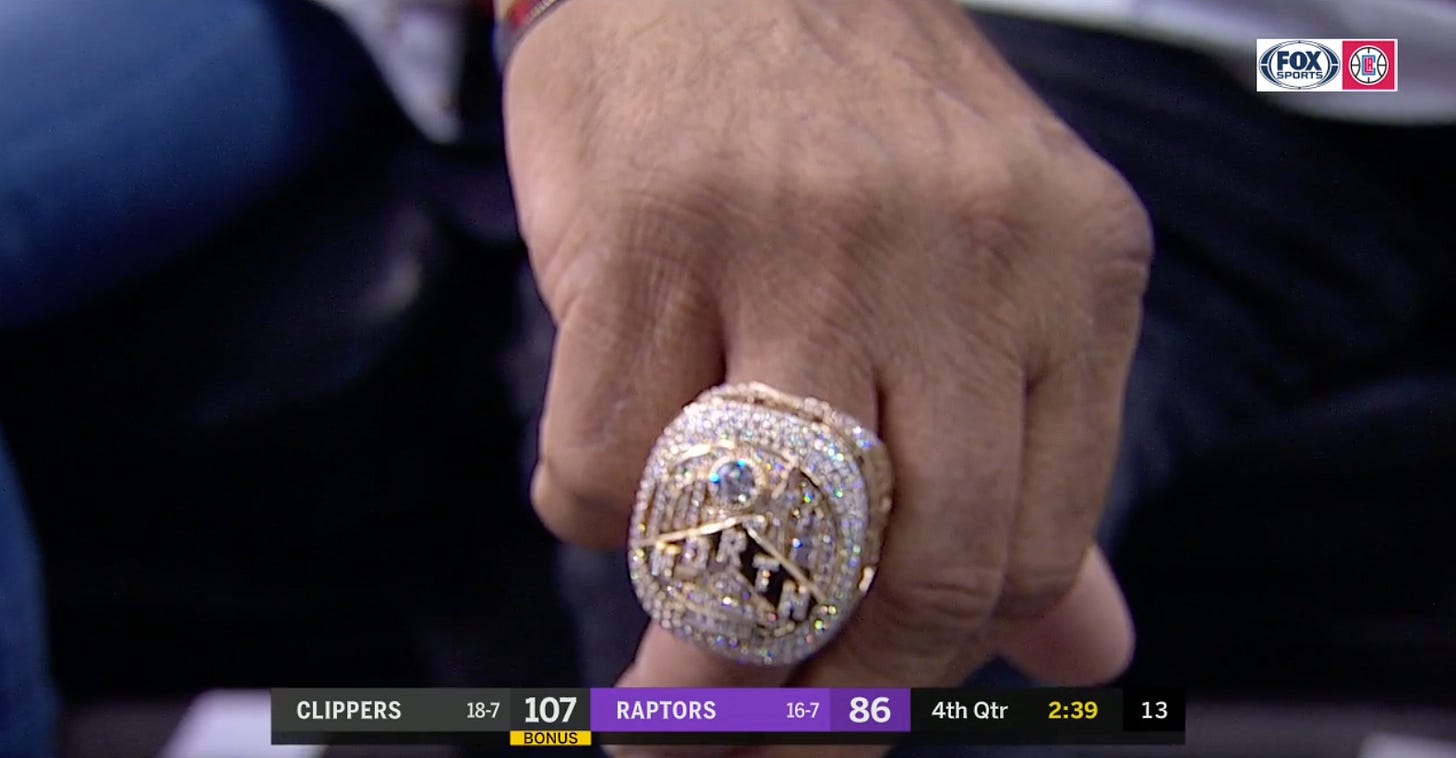 In years past, when the Clippers would go down twenty points in the fourth quarter and the game would go to timeout, Let's Get Loud would start playing on the Staples Center loudspeakers. On cue, every time, unironically, Let's Get Loud.
I'd never heard that song in any other context — I didn't even know it was a J.Lo song until I looked it up a second ago — but when the Clippers went up twenty on the Raptors last night, it started playing in my head.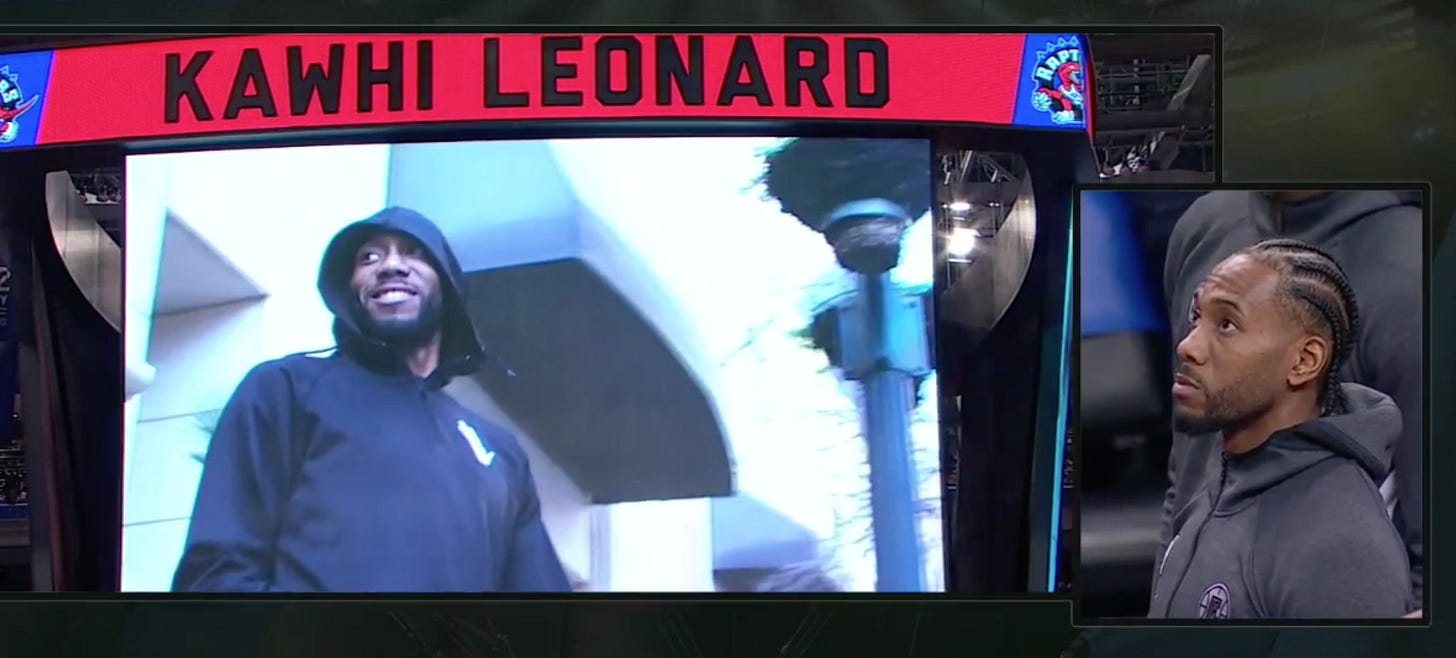 It was, if you hadn't heard, Kawhi Leonard's first game back in Toronto since he won the NBA Finals last year. Following a video tribute from the home team, Kawhi waved to the cheering crowd. He crossed half court to hug his former teammates in order from least to most Kyle Lowry (so beginning with Norman Powell). The apple-bottomed point guard presented him with a ring. Kawhi squinted at the big shiny jewel and put it on his ring finger, which is the wrong finger.
Describing after the game what transpired in that moment with Lowry, Kawhi waxed romantic. "Memories probably just ran through our heads," he said.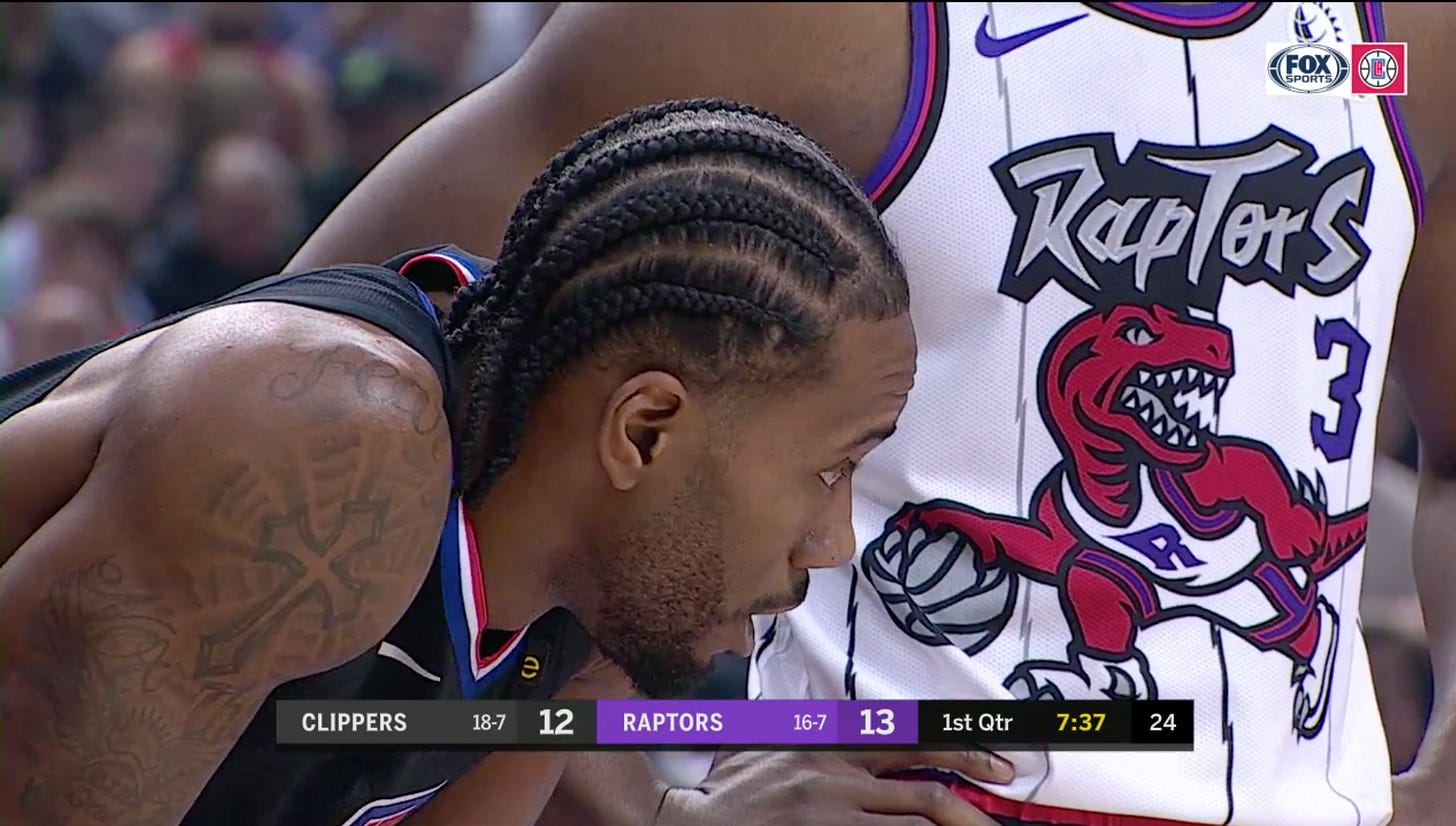 Kawhi has paid lip-service to the idea of what it would mean to bring a championship to the Clippers and to the city of Los Angeles. Saying so is less boilerplate than muscle memory for him, surely. Winning the 2019 NBA Finals brought fulfillment to Raptors fans and made a city out of Canada in ways that no American team, however shunned or cursed, could possibly achieve. Despite living under a rock, or (more likely) on top of the rock the rest of us live under, he got that it mattered to people there and on some level bought into it himself.
There is no such pot at the end of the title run in Los Angeles. There will not be tens of thousands of people standing outside watching Clippers NBA Finals games in cities across the country. Should the team make it that far, it seems improbable that an attempt to fill L.A. Live like Jurassic Park would sell out. And to be clear, I yearn to see the day, but a Clippers championship parade would be bizarre, glorious, and a potential disaster. (My guess is they would go a different route, so to speak — maybe hold a ceremony at Staples and then some kind of set piece in South LA.)
---
Sharing Unstatable helps new readers discover it. If you like it, pass it along!
---
Last week, sitting above the nosebleeds with the good boys of Locked On Clippers — who it should be noted are both from Montana — I still couldn't believe that games sold out, that tons of fans showed up in team apparel, that they were going nuts. (The Clippers were beating the brakes off the Blazers at the time.) Who were all these people? Would any of them, if their colleagues brought up the Lakers, Baby at their holiday party, volunteer the Clippers Tho… or would they keep it to themselves, spare themselves the trouble? (Also: do they subscribe?) Staples Center on game night is a safe space for Clipper fans, maybe the only physical time and place in LA — shit, the world — that Clipper fans don't have to explain themselves.
Nevertheless, the opaqueness and dispersion of the Clipper fan base makes the notion of "doing it for the city" implausible as a motivator for Kawhi as he chases his third title. If such a notion mattered to him on its face, he wouldn't have become the first superstar to sign with the Clippers. But it's also possible to see the lack of broader social implications as being freeing. The next one won't be the latest in a rich franchise history, let alone the legitimization of a sport for an entire country. It won't be the ingathering of the diaspora, either. It will just be a ring, for him, by him, with a crowd of unknown size making noise in the background.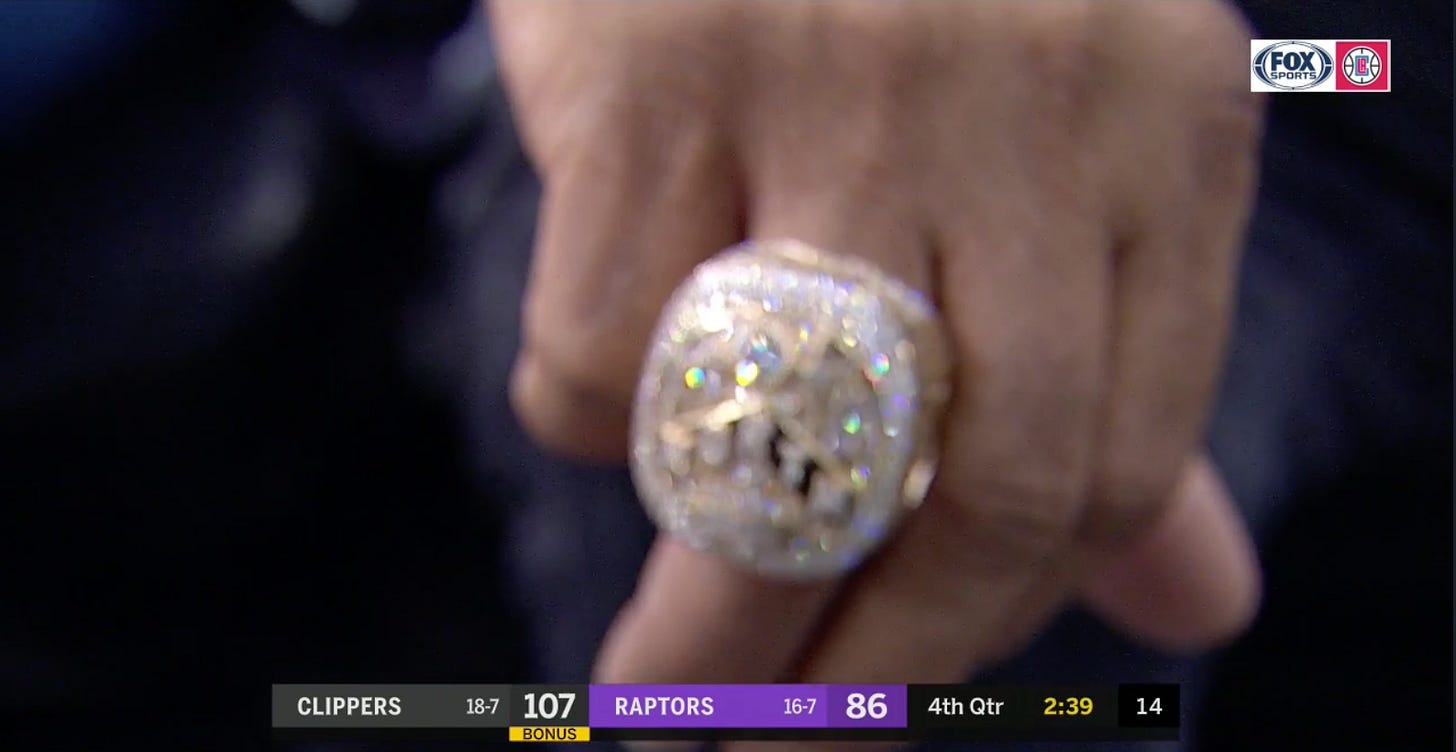 ---
Checking In On The Original Fun Guy
My dad almost died last week. He fainted at a wedding, went to the hospital, and was found to have third-degree heart block. Not long after I got there, he coded. After a few seconds of chest compressions, his heart started beating again.
We got extremely lucky in a bunch of important ways — mainly, he was around people when it happened — and somehow he walked out of the hospital with a new pacemaker less than 24 hours later. Because he's on Medicare For All Who Are Over 65, I can keep writing about the NBA and not accept my standing job offer from McKinsey in order to support my parents. (Medicare: Very Nice! McKinsey: Bad!)
Sportswriters connecting with their dads through sports is such a cliche that I have already memed it in this newsletter. As it happens, my parents did not give a shit about sports until it became the only thing I ever talked about, and then they cared a lot. Now my mom (who drew a line at hockey) knows more about the NBA than her high school students do, and I still go over to my folks' sometimes for big games.
My dad did take me to my first NBA game, a tilt between the Miles/Richardson/Odom Clippers and the Sonics, on January 24, 2001. Why the Clippers? Explain yourself, Dad! Well, he also took a couple of my friends, and I don't think we could afford two Laker tickets, let alone four. It might have been a Hannukah present, now that I think about it. We sat in the upper deck (I thought it was called the "bloody nose section"). My dad almost certainly brought binoculars, because that is the type of thing that he does.
I remember two things about that game: a play, and the outcome. It was fasten-your-seatbelt time — Clippers up two with just a few seconds left, needing a stop on the game's final possession to get the win. What happened instead is Desmond Mason received the inbounds pass, took off from the three point line, and dunked the ball at the buzzer. Despite this dunk technically being a three-point shot, the referees must have counted it for only two, because the game went to overtime, which the Clippers lost by four. We took a group photo in the parking lot, another thing my dad would do.
In retrospect, you couldn't have picked a better, more heartbreaking night on which to begin life as a Clipper fan; at the same time, it's hard to say that definitively because a lot of their games ended like that. Also, if you think about it, a lot of people picked the night of July 5, 2019, to become Clipper fans, and one could make the argument that those people saved themselves a lot of trouble. Thanks, Dad.
---
During last night's game, Mike Fratello said he'd never wear a championship ring in public if he ever won one, because what if he got jumped?
---
BLOG ROLL
#SameOldClippers Podcast (drops every time the Clippers lose!) ∙ RealGM - Analysis ∙ Bad Photojournalism ∙ Sports Stories ∙ Ilyasova Charge Bot ∙ Take It Or Break It ∙ The Second Arrangement ∙ Bachletter ∙ Crane In Search Of Man ∙ The Shocker ∙ Basketball Feelings ∙ My LinkedIn Page ∙ Roundball Rock ∙ Fastbreak Breakfast ∙ Mouse House Books ∙ Clips Nation ∙ NBA4Free ∙ Unstatable on Discord & Reddit
---
I'm doing Unstatable out of love, and so I can get more (paid!) work writing about the NBA. If this piece did something for you, reward me! Share it, retweet it, follow me, tell a friend. You can also support this newsletter by throwing down for one of these nearly sold-out Unstatable stickers (there's like four left).
I also love hearing from readers. To reach out, reply to this email.