Discover more from Unstatable
A newsletter about the Clippers.
Teaching men how to fish
The highs and lows of Paul George, one of the sport's most complete personalities and the Clippers' emotional bellwether.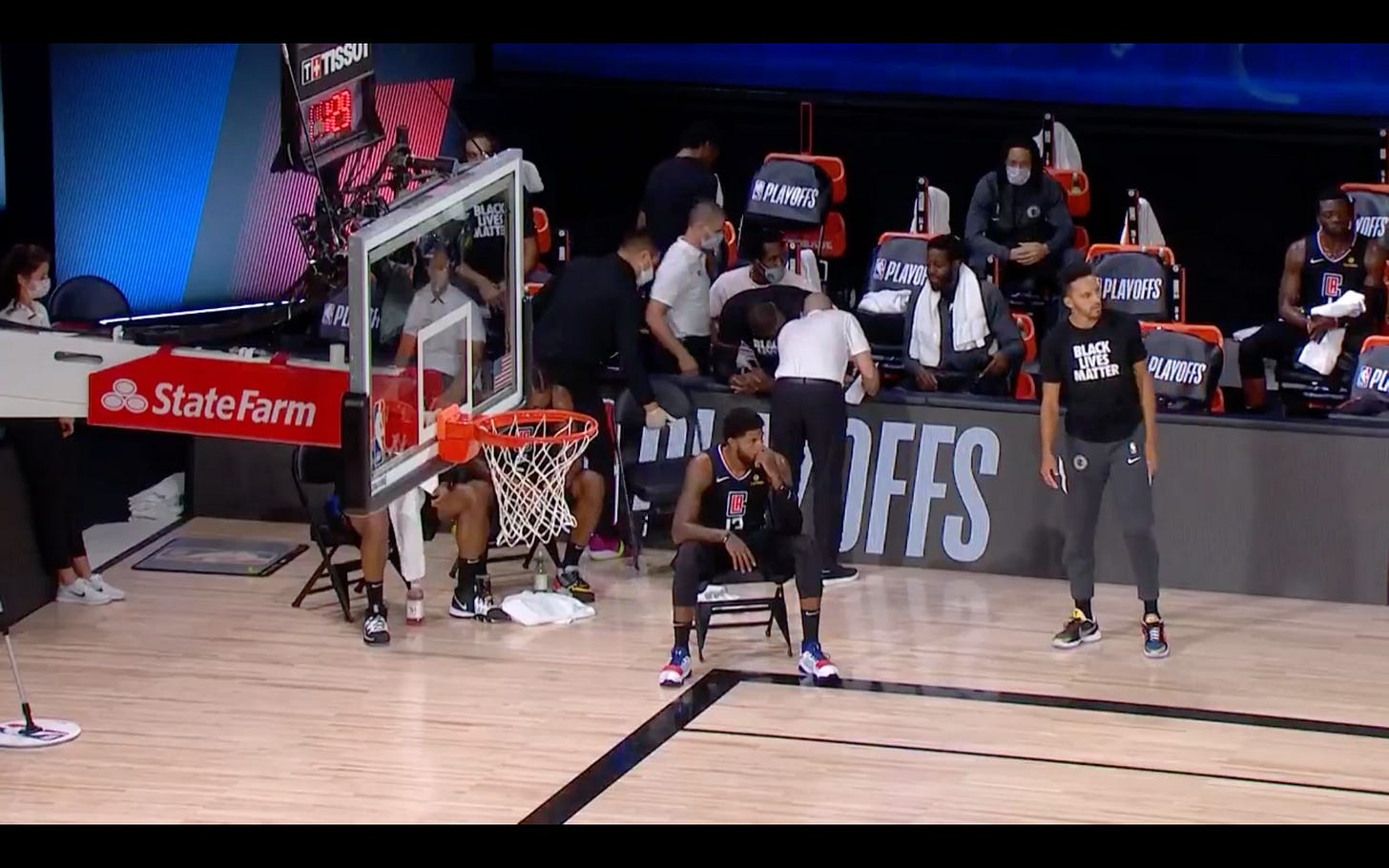 For about a week's worth of games, which this time of year is enough to break a season, Paul George had writer's block. He was staring at a blank Word document — had been for days. He had slept on it the first night, woke up the next morning and got sidetracked. The second night he had begun hacking at the first sentence and couldn't get anywhere. Sometime during the third night he started wondering about getting a real estate license. He was getting a familiar feeling in an unfamiliar place.
When we talk about emotional players, the guys that come to mind are the most outwardly expressive ones. Kevin Garnett, Montrezl Harrell. Guys who beat their chest, air-punch, get techs. LeBron? Draymond Green? Sure. But it's never a guy like Paul George, a McGradyesque assassin who gets his 27 points without leaving third gear. Paul George is quotable only by accident — I don't think he meant to diss James Harden when he said "I'm not James Harden," but people ran with it anyway — otherwise, he stays out of the headlines. Which isn't to say he's boring. He's just got a high thread-count and two first names.
Paul George is one of the most emotional players in the NBA. This was true prior to last week's postgame interview, when he confessed that he had been depressed, and it was true prior to the week leading up to it, when the hurricane of bad vibes and disorientation that comes from being confined to an over-sanitized, unfamiliar space made landfall. Anyone watching him against the Mavericks could see someone in his head. If you missed the games, JaMychal Green told you afterward: We're trying to get PG out of his head. What makes Paul George one of the most emotional players is not that he experiences more emotion or even conveys more emotion — it's that he's always in touch with how he's doing. He feels what he's feeling.
Also, crucially, he lets us in.
Last July, when Paul George introduced himself on the podium as a new member of the Clippers, he drifted briefly into what could have been had his Indiana Pacers not traded Kawhi Leonard to the Spurs on draft night in 2011:
I remember, when I was in Indy, and we drafted Kawhi, I was a little confused by it. I was the two-guard, and Kawhi was my position. And, I was a bit nervous for that competition that was coming. But, if we fast forward that and knowing what I know now — being the player that I am and the player he developed into — I wish we would have kept that pick, and I wish we would have progressed together, and we could have did some special things in Indiana.
He's just been traded from the Thunder to the Clippers — he asked for this trade so that he could team up with Kawhi Leonard — but the operating feeling here is not strictly excitement or anticipation but also wistfulness, that peculiar mix of nostalgia and regret. He cycles through these feelings with total candor on national TV. There are players who betray no sense of their own history — Russell Westbook hurtling full speed into the same brick wall year after year comes to mind — and others, like Chris Paul, seem to dwell on it. Then there is Paul George, openly wondering what could have been with his first team at the introductory press conference for his third. Maybe what I mean by "most emotional player" is just "emotions most like my own."
When I was 23 — so was Paul George — I had a few friends over to watch an exhibition basketball game that I thought would be pretty fun, a Team USA intrasquad tuneup. It was 2014 and I was bullshitting on the landline with someone and Paul George broke his leg. They only showed the replay once and I wasn't looking, but I heard Paul George's leg break because the five other people in the room started shouting bloody agony when they saw it again in slow motion. The rest of the exhibition was canceled and Paul George's career was presumably over.
Paul George has managed to not only surpass his pre-injury form, his play has essentially relegated the trauma to the footnotes. Last year, he threw down a windmill dunk in overtime, two of 45 points he scored in 50 minutes against the Utah Jazz. (He also hit the game-winning floater over eventual DPOY Rudy Gobert.) After the game, he said, "Oh, that was a statement. That was a statement to let them know my legs was fresh, that it was going to be a long OT." There is no nostalgia for pre-injury Paul George.
Long expected to skip town to join the Lakers at first opportunity, Paul George didn't even test the waters when he became an unrestricted free agent two summers ago. Instead, he maxed out with the Oklahoma City Thunder and smoked cigars on stage with Russell Westbrook. Later he said, "I wanted to come [to Los Angeles] a year ago prior to going to OKC. Unfortunately, I wasn't traded to the Lakers. The Lakers didn't grab me. I was traded to Oklahoma. And that has been a beautiful thing for me."
The following season, the Raptors' Kawhi Leonard was the marquee free agent. When Toronto visited Oklahoma City, the two stars exchanged pleasantries, with George appearing to offer Leonard advice. A few months later, they met at Drake's house and hatched a plan to unite in Los Angeles. And Westbrook, history's saltiest ex-teammate, didn't mind!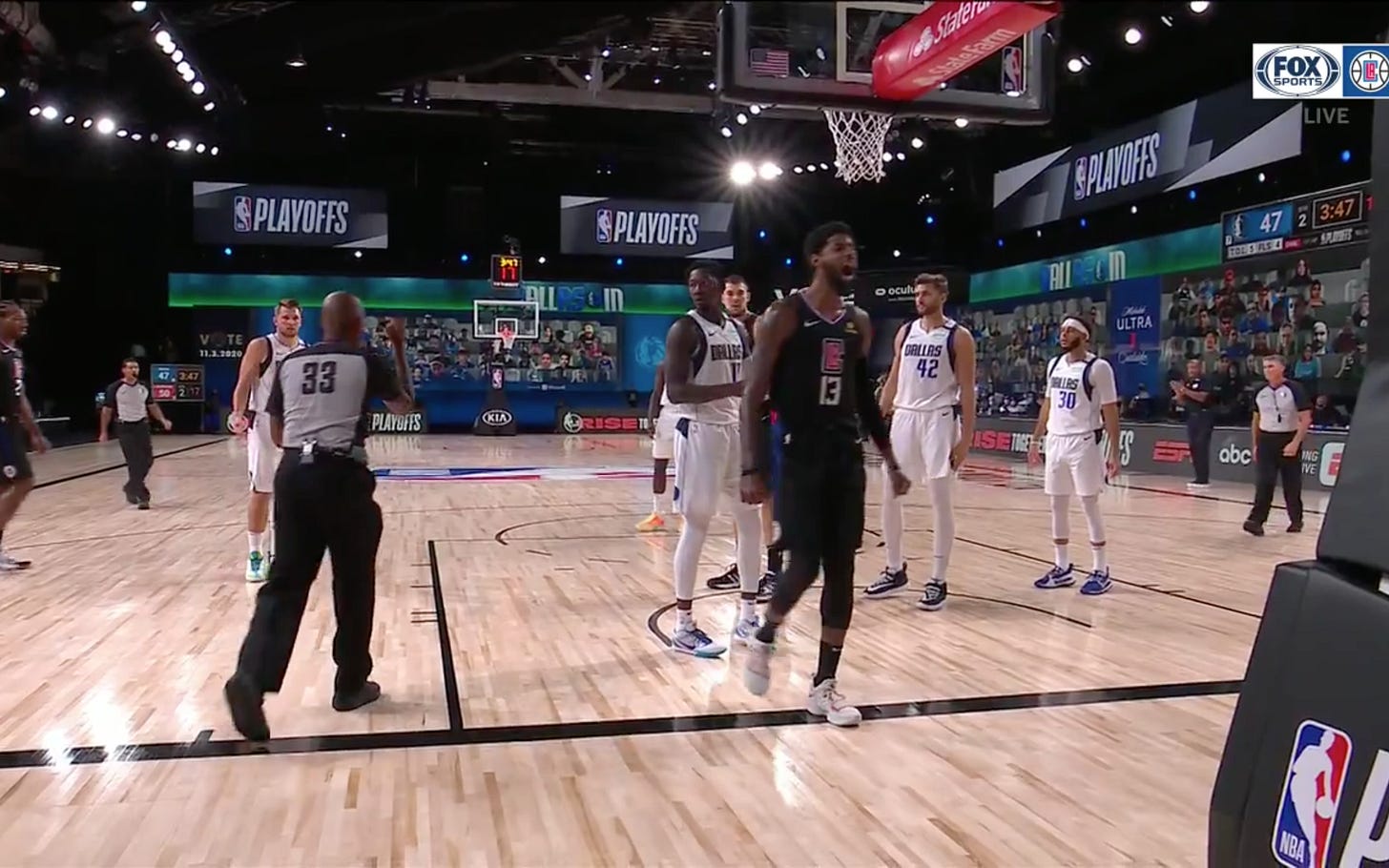 Paul George was a Clipper fan growing up.
Paul George loves to fish.
Paul George wears a gold chain in the shape of his PG logo that was given to him by Carmelo Anthony.
Paul George calls his longtime girlfriend "Woobie" and simps without compromise.
Paul George turned 30 during quarantine. (I'll get there next week.)
A lot has happened since Paul George gave that postgame interview to Jared Greenberg. NBA players went on strike, bringing American pro sports to a near-complete halt to shed light on the latest murder of a Black man by police. Not long after they resumed play, LA County sheriff's officers shot and killed a Black man, Dijon Kizzee, who was allegedly "in violation of vehicle code" while riding his bicycle about 3 miles from the Clippers arena site.
At this point, NBA players' cries for justice don't feel rehearsed, but they have begun to feel recitative. An unreasonable amount of pressure is on the NBA's stars to deliver something profound at every press appearance, about what it means to be a Black man in America, about how important it is to just not fucking kill Black people. Like this isn't even politics, it's just the sixth commandment, do not kill, and LeBron, who's rarely at a loss for words, has really run out of things to say. The burden they have of justifying their games by promoting social justice at the margins is taking a toll on everyone, and muddling the message as much as it does the entertainment. All this shit is above their pay grade and the burden to defend this twice a day should be on the owners and Adam Silver.
Far be it from me to challenge Donovan Mitchell who is doing what he can, but what exactly is one supposed to make of him saying that his pain after losing a game seven couldn't possibly compare to the pain felt by Black people who have had their families murdered by cops? These things don't mix as well as we want them to, and placing them next to each other doesn't help us understand either better. Instead, it becomes a way for a certain type of fan to receive validation (a type of consumer comfort which the league is marketing aggressively, if you hadn't noticed), by disguising their consumption as a form of political engagement. Guess what, it's just television. And I feel like people need to be reminded that this isn't the fucking Hunger Games. In the end, maudlin postgame nonsequiturs like Mitchell's are merely an extension of the kitsch-bombing the league has done to drown out the awfulness of the sanctuary to flagrant foul replay reviews it built in a country shedding a thousand souls a day.
Ah yeah, and the Clippers' owner is plundering Inglewood, and the Pistons' owner is one of the biggest contractors with private prisons. Anti-BLM senator Kelly Loeffler owns the Atlanta Dream. And nobody is doing anything, nobody is going to do anything, about any of that. It will continue to fall on the players to huff and puff on the brick wall. Here is what they will get: Black Lives Matter got put on the court and the jerseys, a ~wildcat strike~ did teach the reactionary teens at my high school alma mater who Jacob Blake was (and a lot of other people) and means (some? several?) NBA arenas will be used as polling places, and the Wisconsin legislature did convene for a meaningless session about a bill no one liked.
Hence, Paul George saying "you know what? To be honest this shit fucking sucks, I'm depressed, what the fuck are we doing, this isn't normal" was really nice! Even before he rebounded to bumslay the Mavericks' babyguards into oblivion. Good to be emotional sometimes, good to feel how you are feeling, good to let others in. You know what Paul George I am with you. This shit is fucking killing me, too. Man.
"Cry me a river. Clips in 6." -Marcus Morris
---
Blog Roll
Unstatable ∙ Random NBA Plays ∙ Sideshow Books(Delivering to LA!) ∙ Stealing Home ∙ Same Old Clippers Pod ∙ QuarantineCast with Corbin Smith ∙ Bad Photojournalism ∙ Sports Stories ∙ Bachletter ∙ Basketball Feelings  ∙  RealGM Basketball Analysis ∙ The Second Arrangement ∙ Crane In Search Of Man ∙ The Shocker ∙  My Motherfucking LinkedIn Page ∙Fastbreak Breakfast ∙ Prada's Pictures ∙ Roundball Rock ∙ Giri's Racquet Newsletter ∙ Amazing Blaze ∙ Dreem Team Survivor Recap ∙ In Good Faith ∙ Entrepreneurship Today ∙ Jad's Dad Milo∙ Mouse House Books