Discover more from Unstatable
A newsletter about the Clippers.
That was, actually, not tight at all?
Check out time for the 2019-20 LA Clippers.
Welcome to Unstatable, a newsletter by Louis Keene about the 2019-20 LA Clippers. Warning: nothing is what it seems.
The Clippers, a miserable bunch that hid from their issues all season, finally got dragged fully into the light. Let them be exposed.
SAME OLD CLIPPERS
"It might be good. It will be different." –Unstatable, October 22, 2019
"This isn't the Ouija board or the spirit-world we're talking about here, but just another job like laying pipe or driving long-haul trucks. Your job is to make sure the muse knows where you're going to be every day from nine 'til noon, or seven 'til three." –Stephen King
"Another one." –DJ Khaled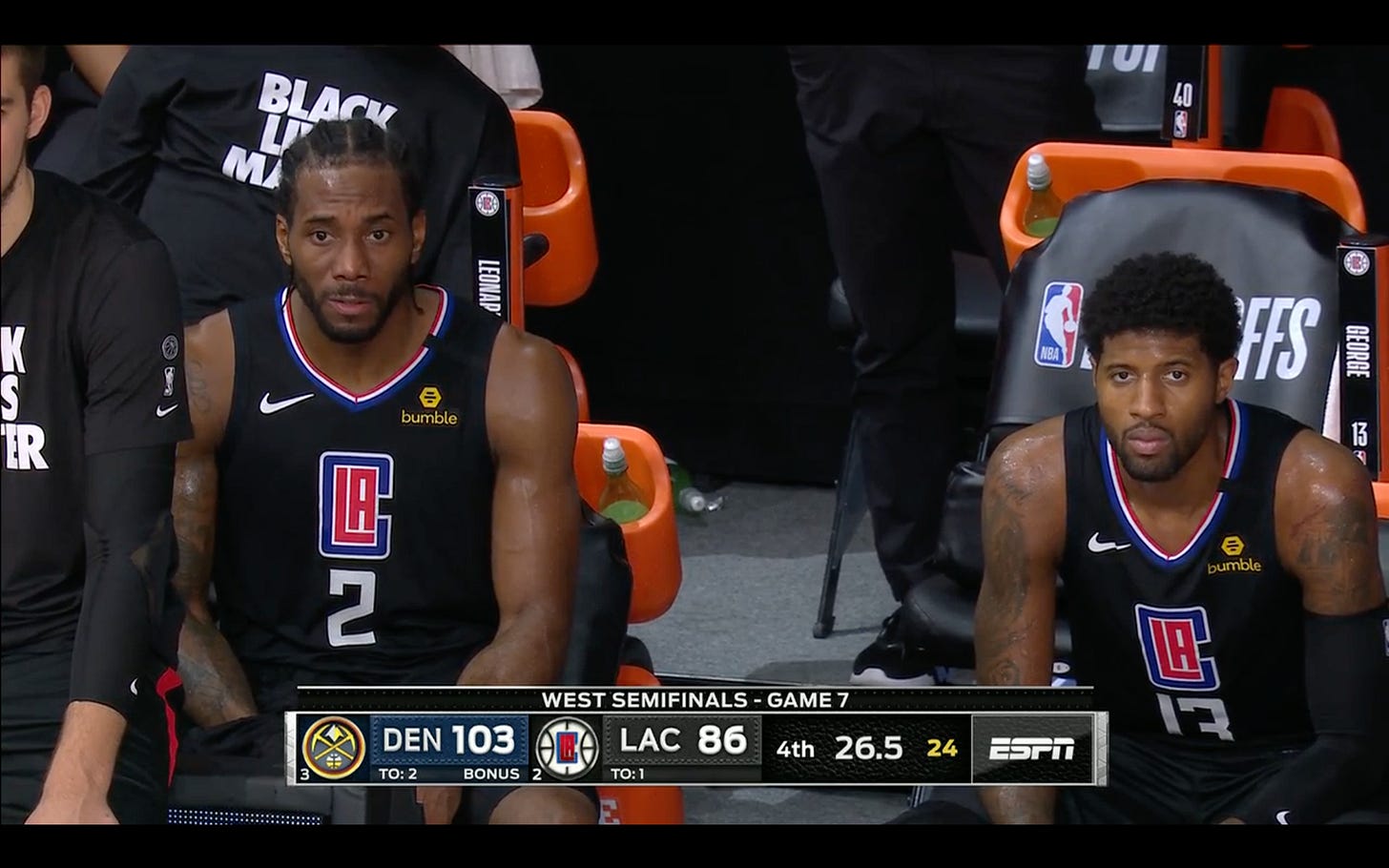 I guess there's comfort in familiarity.
The Clippers choked away a 3-1 series lead, and really once they didn't wrap in Game 5 they didn't even need to play the last two games. It's been the knock on the Clippers all year, they wilt under pressure. They did that in this series in ways that were occasionally new and creative — we are now hearing that our scrappy, blue collar lads were actually "tired" tonight — but for the most part their collapse felt boring and rehashed. At a certain point of the saddest Game 7 I can remember any team playing, I realized the Nuggets facing the Lakers excited me more.
Here's something else I observed, which was made plain from the jump: the Clippers did not seem to value winning any particular game, all season. Say what you will the wisdom of load management, but it reflected a conscious decision to put off winning for later. And hey, it's a line many teams feed the media for some reason, but the Clippers seemed to relish "just any other game" to a fault. (You can't even get excited for Christmas?) An insistence on affecting aloofness before the game seeped into the games themselves. When a team punched them in the mouth, it was always just — sigh, rinse and repeat. No cause for concern. Get the next one. They generally did.
Montrezl Harrell, bless his heart, called the team out for its lack of spirit after one such letdown in January. In that game, they gave up 40 in the first quarter and 140 total to the 13-22 Memphis Grizzlies. They folded a few minutes into the third.
We're not a great team. We're not a great team…that's number one, right there. I think that's what we need to realize and wake up. We're a team that still has to figure out things that we need to do to win night in and night-out.
If you think you're just gonna walk on the floor & beat another NBA team, you're kidding yourself. It's not gonna happen. Either we wake up & figure it out right now, or we're just gonna have a full up-and-down season for the whole year.
He didn't seem to think anyone else on the team really cared, either.
But even the locker room stoic, Kawhi Leonard, didn't like what he was seeing after that game:
"We've had a lot of wake up calls. I feel like it's the middle of the season and some of the mistakes that we're making, we shouldn't be making at this time."
We've had a lot of wake up calls. They had plenty left. This was only January 4! The year 2020, the WAKEUP CALL TO END ALL WAKEUP CALLS, had barely started!
Doc Rivers tried to sweep it under the rug the next day. But privately, The Athletic reported, he reamed out Harrell for bringing his beef to the press. Don't create distractions for our locker room.
The distractions, of course, were coming from inside the house, and the media did not invent the chemistry issues, and no matter how boring and quiet the media could ever be — in fact if the media did not exist at all, or if Patrick Beverley didn't talk to reporters for the rest of the season, instead of the two weeks after The Athletic story ran — those chemistry issues would not have been resolved. Clearly!
I'm biased, sure, but it seems like sometimes players talking about stuff in the media, on the record, can help, especially when it's hard to communicate things directly. To cherry-pick one example, John Wall talked about how he and Bradley Beal had a tendency to "dislike each other on the court" in August 2016; the media did make a big deal out of it for a news cycle. The following season was their best as a duo. On the other hand, the Lob City teams never talked about their locker room issues in public, and it doesn't seem like they did in private, either — those players still do therapy on JJ Redick's podcast to try to put a finger on what exactly they were. Whatever it was — distrust, jealousy, passive-aggressiveness — always reared its head at the worst time. After fumbling away Game 5 in the final minute to the Thunder in 2014 (I was there, really fun!), in 2015 they blew a 3-1 series lead to Houston, a choke job that truly will never be topped (sorry, last night's wasn't even close). And then they glossed their second straight collapse over in the press, kidnapped DeAndre Jordan, and stuck it out for two more years!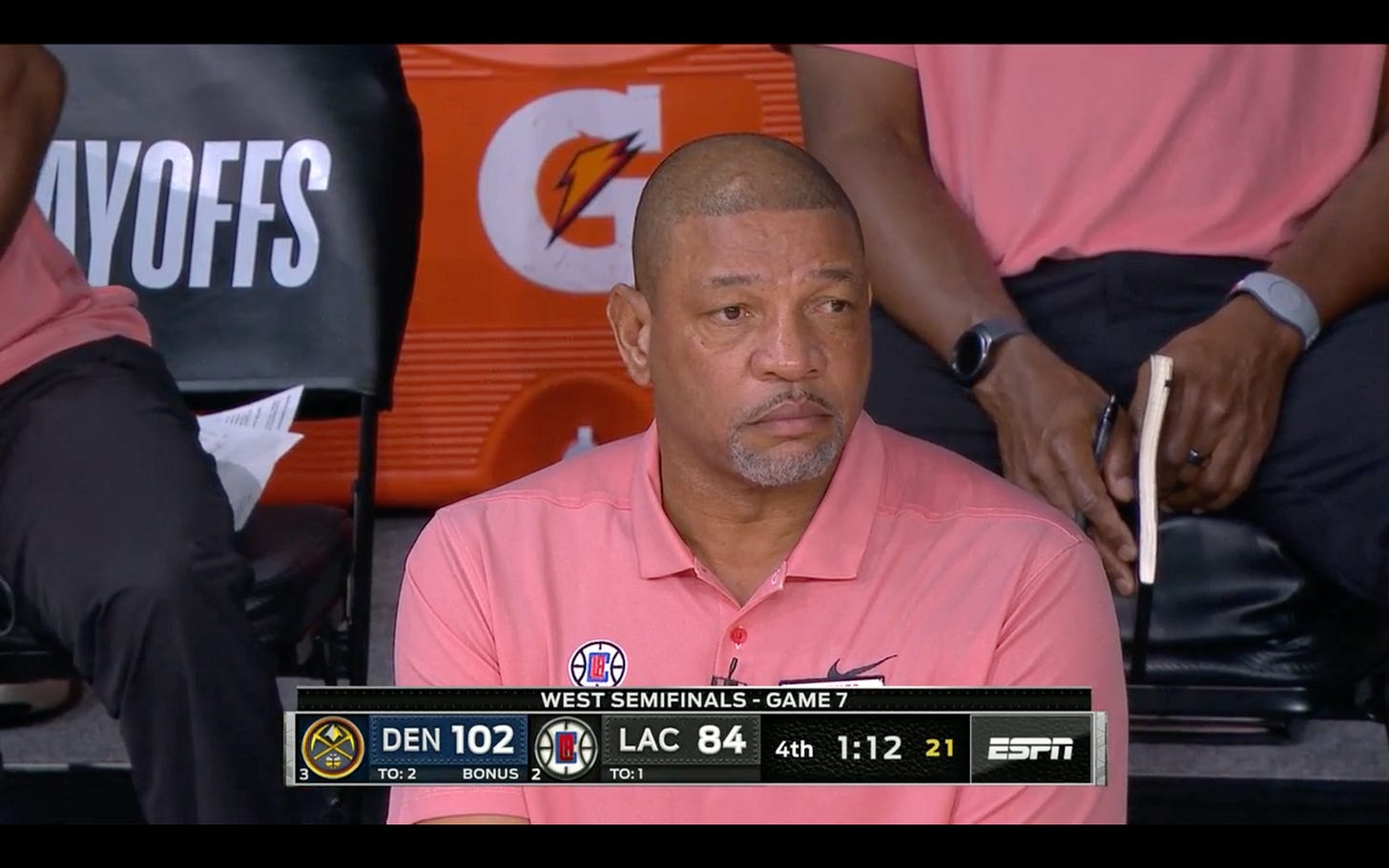 The Doc Rivers Clippers don't talk. Never have. Doc handles the press with his good-natured but tiresome truisms — the first question I ever asked him was "What's wrong with Paul [Pierce]'s shot?" and his quip was, of course, "It's not going in!" — and everyone else takes turns rehearsed answers. But you can't hide what everyone sees on television. Landry Shamet took a step back this season, after looking like a piece of the franchise's long-term backcourt in 2019. He may be shipped out for reinforcements this fall. He didn't say anything to the press because he's Landry Shamet, but dude never found a rhythm in the Clippers' superstar rotations. Not talking about his awkward fit in the second unit make the fit less awkward. Didn't make the shots fall either.
Standard-issue athlete pablum is, to say the least, unsatisfying after failure so disheartening, so total. After the team drop-kicked a 19-point lead in Game 6, Paul George said "we're still in the driver's seat," a cliche that doesn't even apply in a tied series. After their utter shellacking in Game 7, Paul George said the atmosphere in the locker room was "optimistic." Man, what?
And then there are all the zero-calorie phrases Doc has turned into t-shirts. I inform you with the deepest possible humiliation that Unstatable has learned that on April 27, the Clippers trademarked "Win The Wait." When the wait was over, the Clippers returned to the bubble out of shape and unfocused; Lou Williams, again, bless his soul, was suspended for swinging by a gentlemen's club on his way back to the Bubble. ("It ain't no fun if the homies can't have none." -Adam Silver)
Another zero-cal Doc favorite they put on t-shirts was "VOTE," arguably the most asinine thing one can suggest to someone protesting police violence, but we're not ready to have that conversation, so I'll just say that the Clippers released a "Voters Win" collection. Voters win does not make sense, conceptually. I'm not being dense. In order for voters to win, voters have to lose. You can't even say that the majority of voters win, in America.
When it came to doing coaching people up, Doc didn't seem to really believe in it.
I said before the playoffs on the Same Old Clippers podcast Robert Flom and I do after every Clipper loss, that this team lacked a story that could make a title contender. If there was a story, You knew the jig was up when Dallas made them sweat. The Mavericks were not a great team, frankly, even at full strength, which they weren't; the Clippers made them look superb, fearless. Game 2 of that series, they never led. We'll get the next one. Game 4, they blew a lead and Luka Doncic hit a game winner. That was a wake up call!
Never mind.
As much as last season's holdovers professed their interest in remaining the underdog, this group believed the hype surrounding them. They always believed in the back of their head they could flip a switch when they had to. But in the Denver Nuggets, they ran into an opponent that also had a switch, and had way more practice using it. That the muse knew where to find the Denver Nuggets made this a matchup nightmare. The Clippers, so sure they could command its presence, went the first seven minutes of their season's final frame without a made field goal.
I'd bought the hype, too. When the Clippers signed Kawhi Leonard and traded for Paul George, I ended my post-graduate school internship in D.C. and moved home to pursue writing full-time. My plan, in retrospect a hilarious one, was to write a book about the Clippers' first NBA championship run. I was actually fairly certain they were going to win. And all season long, their nonchalance only fed my optimism. Gone was the dread of previous years. Kawhi was inevitable. He possessed the final je ne sais quoi that Chris Paul — yes, bless his soul — seemed to lack. But he wilted in the last two games as much as anyone else.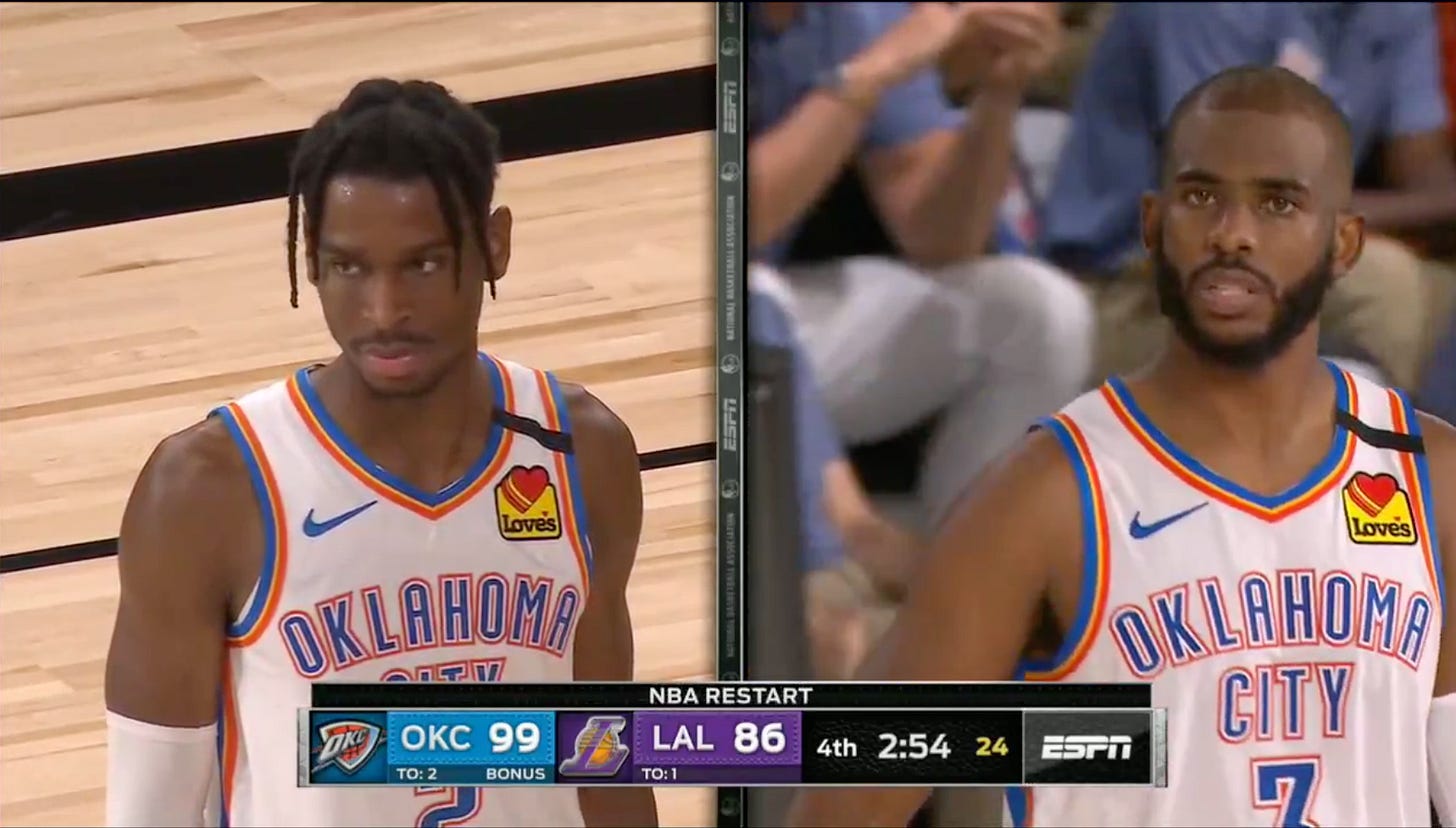 The franchise cashed in its first special young player since Blake Griffin plus every tradeable asset in its portfolio to get a guy who doesn't look half as good as Jaylen Brown. That reminds me, the Clippers' media-facing story that Kawhi would only sign if they traded for Paul George should be challenged. The question posed by the first Unstatable was this: if your favorite team could employ a sprightly young group destined to die gallantly in the couple first rounds or a mercenary superteam chasing titles, what would you want, and would it change if your favorite team hadn't made a Conference Finals in 50 years? It was a false premise. The mercenaries hardly outperformed the kids.
---
Blog Roll
Unstatable ∙ Random NBA Plays ∙ Sideshow Books(Delivering to LA!) ∙ Stealing Home ∙ Same Old Clippers Pod ∙ QuarantineCast with Corbin Smith ∙ Bad Photojournalism ∙ Sports Stories ∙ Bachletter ∙ Basketball Feelings  ∙  RealGM Basketball Analysis ∙ The Second Arrangement ∙ Crane In Search Of Man ∙ The Shocker ∙  My Motherfucking LinkedIn Page ∙Fastbreak Breakfast ∙ Prada's Pictures ∙ Roundball Rock ∙ Giri's Racquet Newsletter ∙ Amazing Blaze ∙ Dreem Team Survivor Recap ∙ In Good Faith ∙ Entrepreneurship Today ∙ Jad's Dad Milo∙ Mouse House Books ∙ Western Illinois' Championship Chase 
---
"From the depths of mystery, and even from the heights of splendor, we bounce back and hurry for the latitudes of home." –Annie Dillard