Discover more from Unstatable
A newsletter about the Clippers.
The Automated People Mover
Pipe dream, promise, or metaphor?
You're reading Unstatable, a newsletter about the Clippers' Inglewood arena project, written by Louis Keene. It's good to have you. To support the work that goes into this newsletter, hit the button.
---
This is a newsletter, so we begin with some news, via the LA Times' Arash Markazi:
You are looking at a 1.6-mile route for an automated people mover that will take passengers from the Crenshaw/LAX light rail line (aka the C line) to Inglewood's entertainment district. The budget on this project is a billion and change (change = sixteen million dollars); CalSTA will deliver about a tenth of that. The remaining $921 million will come from "an array of sales tax commitments, private developer financing, infrastructure impact fees, and city funds."
Before we delve deeper, it should be clarified that the map Markazi tweeted comes from an old Inglewood Transit Connector PR pamphlet, and does not reflect the actual plan. It shows five station; but the grant says only three new stations will be constructed. My best guess is the Forum and the SoFi stations will be combined and that bubble under where it says "Market St" can be disregarded. (I am working on getting the new map, and when I do get a hold of it I'll share it on Twitter.)
Inglewood, the city of LA, and the state — and of course many private interests — all want this entertainment district connected to the broader regional transit network, for good reason. Even before you consider the 2028 Olympics, you're looking at 70,000 football fans, 18,000 basketball fans, and 17,000 concertgoers who would be driving to Inglewood with no other option for getting there. Enabling fans to take the train directly to the front door gives them an alternative.
How feasible is the alternative? The most generous answer I can give is that it depends where you live. Here's a (good) map, from Reddit user u/fiftythreestudio, of what the LA mass transit network should (uh, THEORETICALLY) look like in 2028: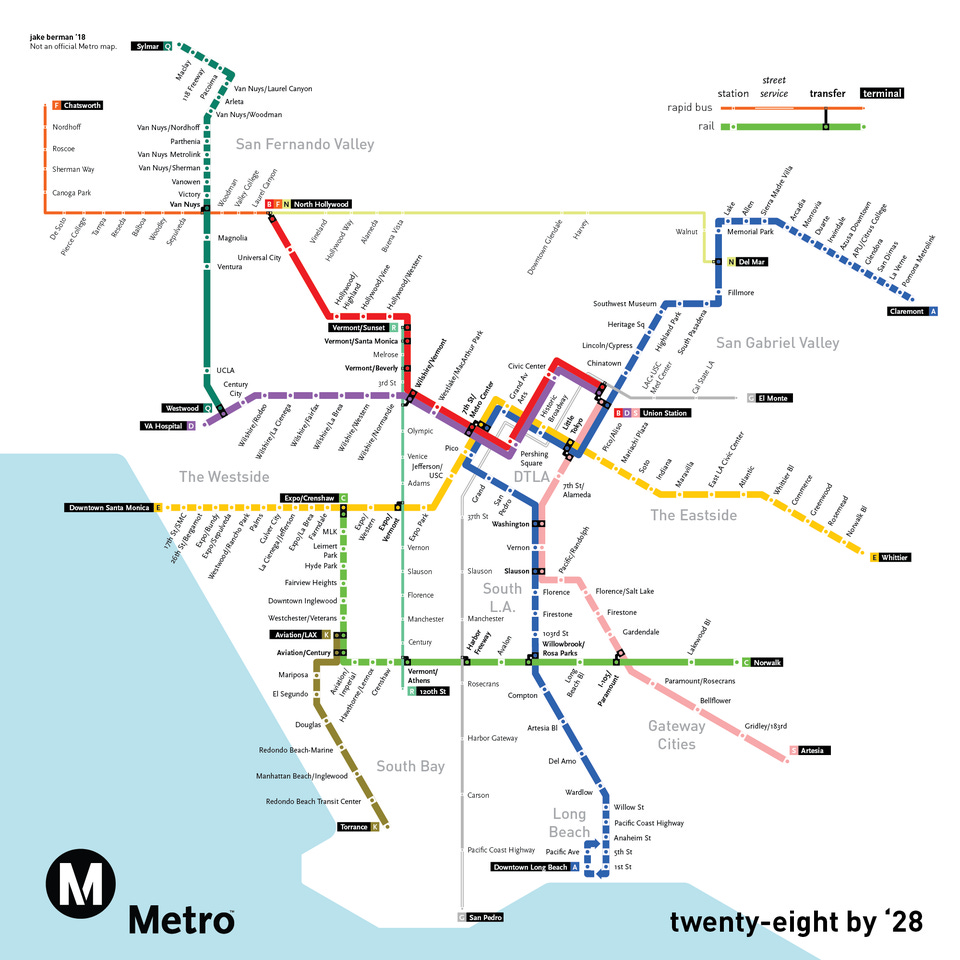 The trick, as always, is to avoid comparisons to Staples Center, which in addition to being located in Downtown Los Angeles, where several rail lines converge, already exists. You do not need an expensive urban planning to degree to see the accessibility change. Find Pico Station in the middle of the map. Everyone who lives along the Blue/A line (from Long Beach to, eventually, frickin' Claremont!) can get to Staples without changing trains. So can everyone who lives along the E line (from Santa Monica to —again, eventually — Whittier).
Now find Downtown Inglewood on the Green/C line. Not only is the station only accessible by one line, not only is that line one of the smaller ones, but even if you did live along that green dotted line, you would still have to transfer to this automated people mover to get to the stadium! And everyone else — whether you live in Long Beach, Santa Monica, Downtown LA, or elsewhere — would be transferring twice or more.
Transfers matter — they add time and unpredictability to trips, make the experience less pleasant, and make taking transit late at night (say, at 10:30 PM, when the game or concert ends) a really unattractive idea. Again, it's not that complicated — just make yourself the rider. How much would driving have to cost for you to transfer twice instead of taking a car? (Here's a prediction: the parking structure by the Expo/Crenshaw station will be full on game days.)
---
I don't want to make every week complaining about the site selection and the desire to leave a basically ideal situation for Clippers fans at Staples Center, but the transportation aspects of this arena development really underscore the wastefulness of the whole endeavor. Talking about a billion dollars for a stub — $233 million of that coming from county sales tax revenue, $95 million coming from the state, you're already looking at a third of it publicly funded before Inglewood plunks down.
I'm assuming, by the way, that the APM will be free for riders with a ticket. Maybe I shouldn't!
How does a billion dollars for an automated people mover that makes three stops in a mile and a half compare to other APM budgets? Well, uh, it's exceptionally expensive. The highest price tag I could find for was the JFK AirTrain, which cost about $350 million per mile (in today's dollars). A billion for 1.6 miles brings Inglewood's rate to about $625 million per mile. The first couple of years, the Clippers will run a shuttle to games from the Downtown Inglewood station. It will work just as well as a train, and be a thousand times cheaper.
So why bother? I don't want to say it's only because white people hate riding the bus, though in this town they do, or only because elected officials like shiny new toys. What I am thinking about is the term Automated People Mover. Consider the Automated People Mover in an atmosphere of human displacement. A four-car train gliding over Inglewood, making deposits and withdrawals, doing what it is designed to do.
---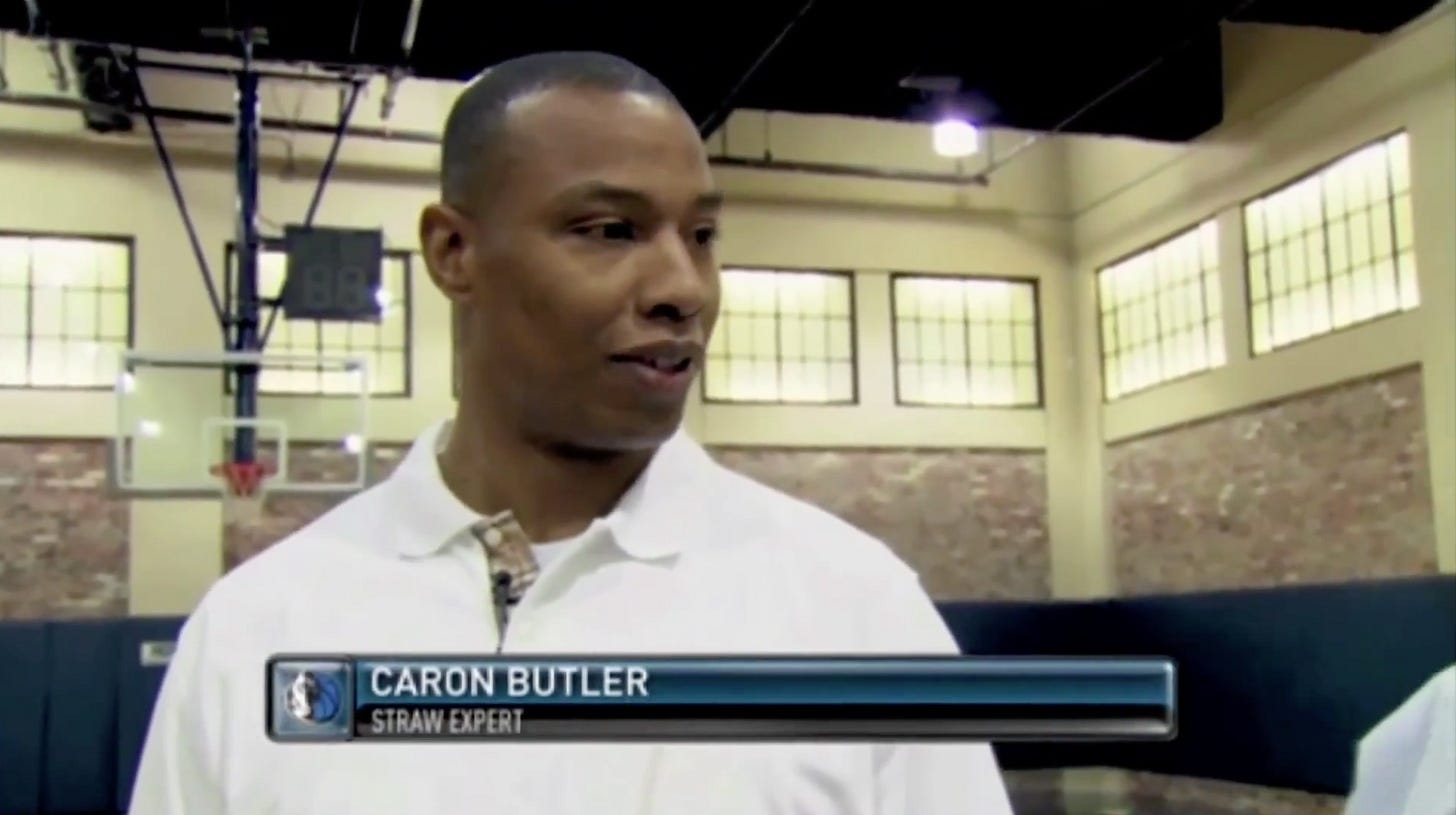 Questions or comments? Reply to this email! Or tweet me @thislouis. As always, you can support the work by sharing it online or forwarding it along. Subscriber incentives are in last week's email.
---
Blog Roll
No Context NBA∙ Sideshow Books (Delivering to LA!) ∙ Stealing Home ∙ Same Old Clippers Pod ∙ Take It Or Break It ∙ Bad Photojournalism ∙ Sports Stories ∙ Bachletter ∙ Basketball Feelings  ∙  RealGM Analysis ∙ The Second Arrangement ∙ Crane In Search Of Man ∙ The Shocker ∙  My Motherfucking LinkedIn Page ∙  Roundball Rock ∙ Fastbreak Breakfast ∙ Mouse House Books ∙ NBA4Free ∙ Giri's Racquet Newsletter ∙ Amazing Blaze ∙ Dreem Team Survivor Recap ∙ In Good Faith ∙ Unstatable on Twitter ∙ Entrepreneurship Today