The Clipper Bar
Where it's okay to be a fan. For a day.
Welcome all our new subscribers! You're the reason I keep doing this through the injuries, the load management, the Grammy trips, the clear path foul reviews, and everything else.
---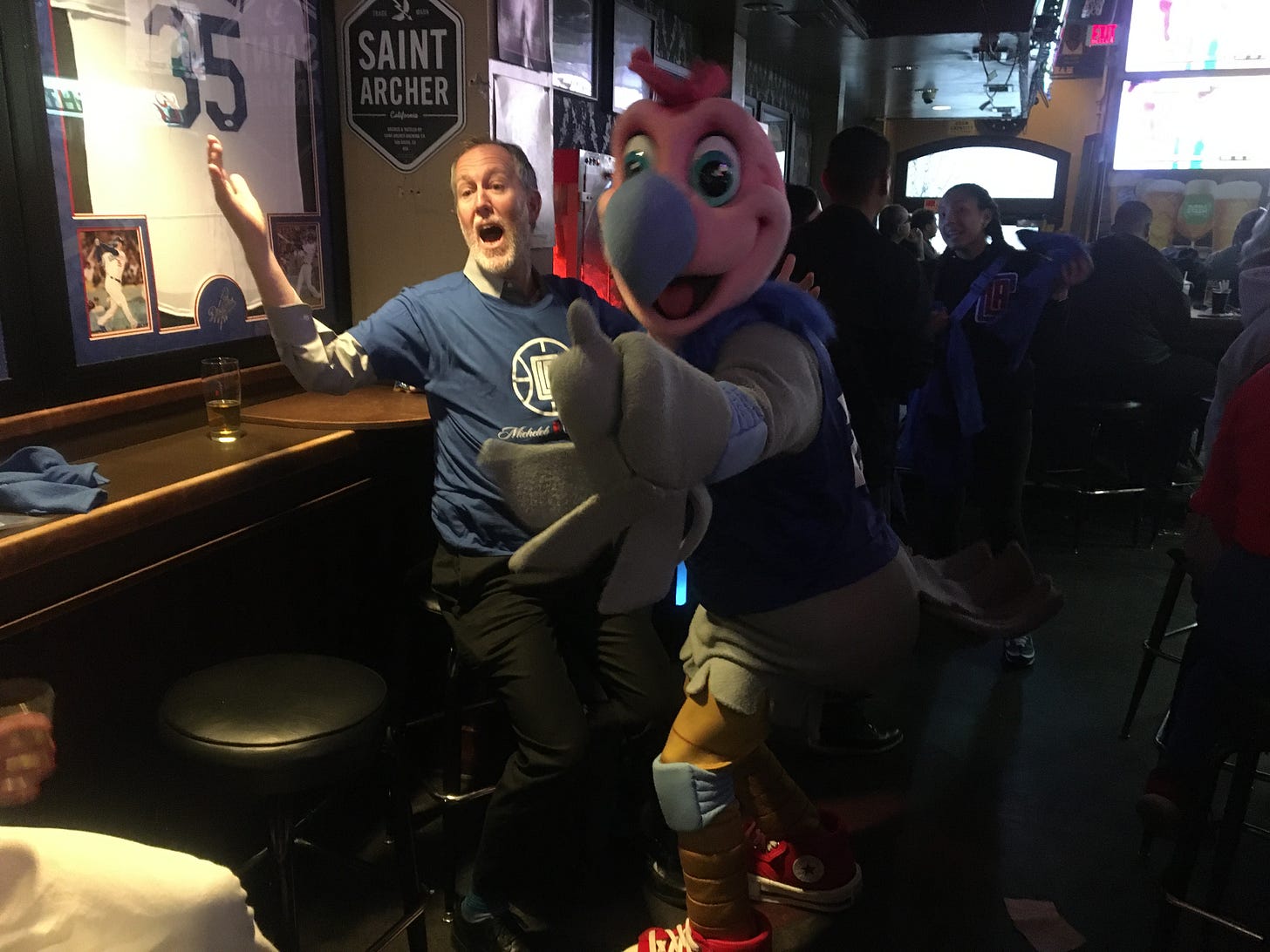 Would you believe me if I said there was a Mikki Moore jersey framed on the ceiling? Alongside a Brevin Knight and an Al Thornton and a Piatkowski? If I told you there was a Chris Kaman (short hair version) cutout on the wall, a VOTE Q-RICH banner hanging from the rafters?
The scene at Freddie's 35er, a Pasadena sports bar that hosted a watch party for last night's double-overtime heartbreaker against the Celtics, offered an alternative view of Clipper fandom, a fandom more rooted in community than in diaspora. The Clippers co-hosted the event, which meant that our pink plush, knee-braced avian mascot/overlord was there, roughhousing and signing autographs and at one point — again, you're going to have to believe me here — dancing on the bar. There were also four dollar beers and the marketing team passing out free t-shirts and rally towels and a scrappy, dare-I-say handsome, dare-I-say young sportswriter promoting his FREE WEEKLY CLIPPERS NEWSLETTER. (Yes I brought flyers.)
I was curious to see who actually goes to these events, and the answer was there are a lot of Clipper fans who live and/or work in Pasadena, which I learned the hard way is about an hour and a half from mid-city in rush hour traffic. A few dozen fans showed up, most of them in team gear, and you know what? It was really cool just to meet them and talk to them. People talk about fans of this team like they are gophers, clearly I'm as guilty of that as anyone, but this is a dispatch from a foreign place, and I am reporting that Clipper fans are real and they exist outside of Staples Center on Saturday and Sunday afternoons. And that there is a bar owned by an '85 account (a season-ticket holder since the year after Donald Sterling moved the franchise to Los Angeles) where fans can go and watch the game. (Hence the framed jerseys — not just on the ceiling, but also on the wall right when you walk in: a Montrezl Harrell right next to a Kobe Bryant.)
So I started asking people why or how they liked the Clippers. One guy, a native Angeleno, said he went against the grain as a kid — he picked the Angels, too. Another new friend was a recent transplant from Pittsburgh, here to pursue a career as an emcee, who said he'd rolled with the Clippers' ethos since the "Oop City" days. More than one person confessed starting out just hating the Lakers. But a middle-aged couple — in full Clipper attire, mind you — said they liked LA's other team, too. Everyone loved Lou and Trezz.
All of which is to say, the group was a nice mix of locals and runoff from other cities and their fanbases, which isn't too different from Los Angeles itself. This is not to say, though, that they weren't as serious or as loyal as other fans. I've more or less ditched my Clipper gear these days — my mandate as a Serious, Objective, Dare-I-say etc. etc. Journalist. But yesterday I put on the old DeAndre Jordan jersey and belted out LOUUUU and screamed mercilessly at the refs for that terrible and-one non-call and drank a little too much and got a burrito afterwards with some new partners in hope and suffering. It felt a little old, a little new, and — would you believe it? — pretty good.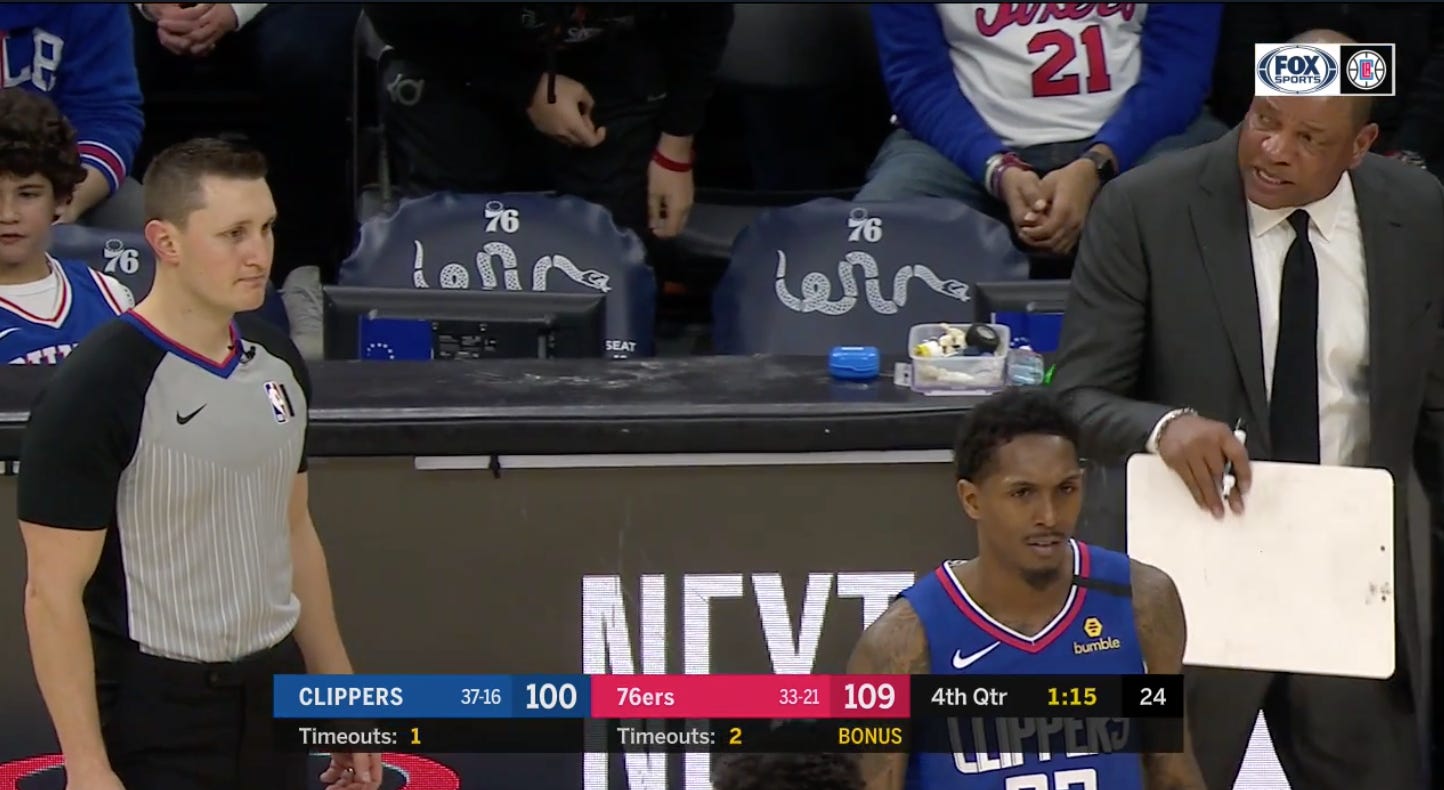 By the way, the Clippers played their two best games of the season this week and lost both. Paul George also reinjured his hamstring. I'm not worried, you're worried.
BLOG ROLL
Stealing Home (PREORDER NOW!) ∙ Same Old Clippers Pod ∙ Take It Or Break It ∙ Bad Photojournalism ∙ Sports Stories ∙ Basketball Feelings ∙ Ersan Ilyasova Charge Bot ∙ RealGM Analysis ∙ The Second Arrangement ∙ Bachletter(returning soon!) ∙ Crane In Search Of Man ∙ The Shocker ∙  My LinkedIn Page ∙  Roundball Rock ∙ Fastbreak Breakfast ∙ Mouse House Books ∙ NBA4Free ∙ Giri's Racquet Newsletter
New here? Take the Unstatable subscriber survey!
---
I'm doing Unstatable out of love, and so I can get more (paid!) work writing about the NBA. If you enjoyed reading this, share it on social media or forward it to a friend.
I also love hearing from readers. To reach out, reply to this email. Shout out to Terry Dehere.