The Color of Money
according to people who have seen it and described it to me
Welcome to Unstatable, a newsletter by Louis Keene about the 2019-20 LA Clippers. Warning: this issue contains a cruel admission about LA's other team. Also in this issue: a cursed link.
Did you know you can support Unstatable and get a dope Lou Will sticker in one stroke? Venmo four bucks to @latimes and comment your address. We're almost sold out!
---
Optimal Stopping
"Based on how I'm feeling, I may have retired too early," he said. "But I didn't want to be too late."
Scott Cacciola of The New York Times checked in with Ralph Lawler six months into retirement. Dooming the ambitions of this newsletter, the article and accompanying portraits are so loaded with pathos that it now seems impossible that a more visceral artifact of this season will emerge.
The irony is plain: a man calls four decades of losing basketball with tireless avuncularity only for the team to get hot, famous, and incredibly successful as soon as he retires. Now he watches the games on television, sort of wishing he hadn't quit but less than tempted to stage a return now that he has. Even worse, his polite deference to his successor, Brian Sieman, keeps him from even appearing at Staples Center just to be feted. So it's Ralph and Sweet Jo in Bend, Oregon, wondering if the Clippers' luck is also just theirs. At least the Lawlers' League Pass seems to work.
Ralph is the Clippers' only Hall Of Famer and whatever he hasn't blacked out from forty years of repeated trauma represents the entirety of the franchise's institutional memory. But he's on the outside looking in as the Clippers' prosperity is related play by play by a new announcer, and as a historian who became a mere character in someone else's work, he's on the inside looking out.

There was a moment a couple weeks back, when Paul George gave up an and-one on the first possession of his Clipper career, when I could hear Lawler's call in my head —Derrick-Favors-says-welcome-back-Paul-George! — and then Sieman didn't even say who committed the foul, swallowed his tongue for about ten seconds instead, and finally explained to the audience that George was not yet in playing shape.
Ralph was a doting homer, but he picked favorites that if you listened closely and often enough you could identify. I'll never forget how sad he was after the Blake Griffin trade. (Not at all.) He was perfect at the kind of aw-shucks moments that often marked the narrative climax of Clipper broadcasts; he could deploy the second-most famous Lawlerism, oh me oh my, at the emotional peaks of a game as well as the nosedives that seemed destined to ensue. He is anything but forgotten. His catchphrases will live on in telecasts across the NBA for eternity.
But…it's not clear at the moment that the Clippers or their fans still need an announcer with that kind of range. The Clippers are past the era of dread, those days are history. It's not like their throwback Instagram channel reminisces on backbreaking defeats. When their best player screws up, there's no haplessness at work — it's because he's out of game shape. There are many holdovers from last year's playoff roster, but the rebrand has been total. The Aw Shucks, Same Old Clippers retired when Ralph did.
---
"Visceral Artifact"
---

The Lakers Actually Are Fun This Year, But I'm Not Addressing That Until Christmas
A few months ago, my old transportation engineering professor was in town, and we're pals I guess, and certainly connected on job networking websites, so he hit me up and we got dinner.
He's a highly professional, vastly successful man of a million lanyards, full of arcane/fascinating knowledge about trucking, container ships, bridge design, the inner life of the public sector, cranes, the Arctic. As an adjunct, he possessed a basically harmless recalcitrance toward the socially conscious urban planners who dictated the politics of my graduate program. He also has an erratic filter, and the uncanny timing and impolicy of his humor can shock people. He told us a story about foreign-born ship hands who were taken hostage by Somalian pirates and forced to lie down on the surface of the top deck. "It was the original Korean barbecue," he said, eyes gleaming, to our appalled class of transit, bike and pedestrian advocates.
He once spent consecutive three-hour classes talking about freight, so now I can tell you how many bananas fit in a shipping container (48,000) and where they get unloaded (Port of Hueneme, which is pronounced [clears throat] whanamana-PAH-namana), and that if you buy a Hawaiian t-shirt in Hawaii, it got there via Los Angeles because of the Jones Act. He once told us his favorite pastime was logging onto LinkedIn late at night and cackling at people's bad photos, and then he made us all dress fancy one night for class so he could take professional ones on a gray background that came out pretty good. After a pair of his former students spoke to us about transportation planning career paths, he told our class to raise your hand if you thought you were someone who was "bad with names." Everyone thought that was basically rhetorical and most of the class raised their hand. He then told all those people they were going to fail professionally and to get better at remembering names.
Don't worry, he didn't die. But he is a Laker fan, which I found out that night at dinner. (We split the check.) I wasn't even aware he liked sports. He doesn't follow it much these days, he said. But when he arrived to the LA area as an international college student thirty years ago, it was the heyday of Magic, Kareem, Big Game James…you had to be a Laker fan. Besides, he continued, the Clippers were easy to figure out. "They might start off good. They might get out to a big lead," he said, "but the Clippers are BIG CHOKERS. They always CHOKE." He delivered this revelation with a triumphant violence, his eyes projecting literal rays of gleeful condescension, and I was laughing because it was true but also because it's pretty funny when your transportation engineering professor says it. Anyway two weeks later the Clippers signed Kawhi Leonard and traded for Paul George. Then they turned the Lakers into Korean barbecue in the NBA season opener.
Fast forward to this Saturday night at one thirty-one a.m. and I get this DM from him: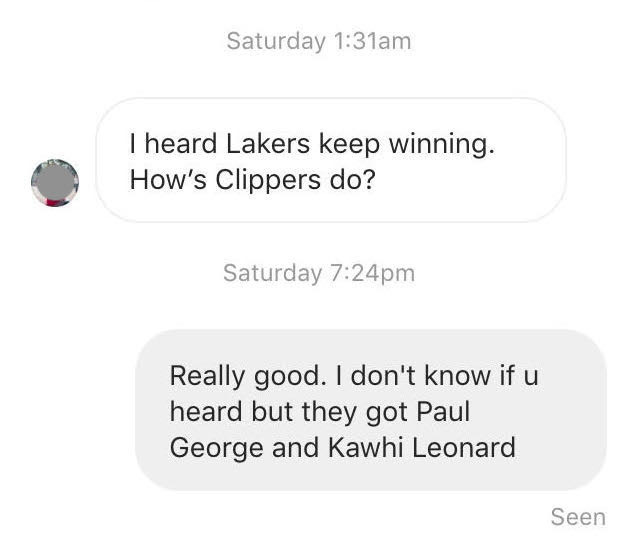 By the way I looked up that thing about the Jones Act and it might not even be true.
---
BLOG ROLL
Same Old Clippers Podcast ∙ Take It Or Break It ∙ RealGM Analysis ∙ Sports Stories ∙ The Second Arrangement ∙  Bad Photojournalism ∙ Crane In Search Of Man ∙ The Shocker ∙  Basketball Feelings ∙ Bachletter ∙  My LinkedIn Page ∙  Roundball Rock ∙ Fastbreak Breakfast ∙ Mouse House Books ∙ Clips Nation ∙ NBA4Free
---
I'm doing Unstatable out of love, and so I can get more (paid!) work writing about the NBA. If you enjoyed reading this, it would mean a lot to me if you shared it. You can also support this newsletter by investing in one of these delicious Unstatable stickers.
I also love hearing from readers. (Shout out to reader Jacob D. for the black bean burger recipe.) To reach out, reply to this email.