Discover more from Unstatable
A newsletter about the Clippers.
What the EIR approval means
Plus, basketball is back.
The stickers for paid subscribers are finally going out. Since these are limited edition I figure they will get more valuable with time, so the holdup is really just helping you. By the time you get yours you'll be worth a million bucks. Thanks to everyone who has subscribed and shared the newsletter. Your support funds Unstatable's independent coverage.
Arena News and What Happens Next
And so it goes…

On Tuesday, the Inglewood city council unanimously approved the final Environmental Impact Report for the proposed Clippers arena. Two weeks ago, I looked at the developer's farcical claim that the arena will generate "zero net emissions," and both the developer and the city continued to tout this during the approval hearing. They have not revised any of their calculations.
This doesn't mean stakes can go in the ground yet, or even that the fate of the land is sealed. First, there's a 30-day Sue Now Or Forever Hold Your Peace period, which does not begin until the city's planning committee issues a Notice of Determination on the EIR. That may have happened on Tuesday, or it may happen after next week's procedural vote. I called the city to get clarification on this and they gave me the runaround, but I'll update this post when I find out.
The city approving the EIR has been characterized in various publications as the clearing of a hurdle, implying that there was any rigor at all to the vetting of this document. Inglewood city council members and Mayor James Butts took turns during Tuesday's meeting making clear that was not the case. Butts and Eloy Morales, Jr., who represents the district in which the arena will be cited, ended the meeting with a fist pound. Morales had described dissent against the arena during the meeting as "noise":
The noise is something that's used to deter. But the silent majority is extremely proud of this. The noisemakers are trying to figure out a way that we can stand in our own way. Because that's the only way that we don't reach our potential, is if we do it to ourselves.
The meeting was two hours of gaslighting sandwiched around a 13-minute recorded video of Clippers top brass hyping the project. The bulk of the video was messages from Steve Ballmer and president of business operations Gillian Zucker, but it was bookended by head coach Doc Rivers and special advisor to basketball operations Jerry West (who played in the Inglewood Forum when he starred for the Lakers). If basketball-side figures are going to appear in marketing material for the arena, then that makes questions about why they support it fair game, and worth asking.
The live-streamed council meeting elicited hundreds of Facebook comments, many criticizing the city and the arena, but that video was taken down after the meeting. When I called the next day and asked what happened to it, a city administrator said she wasn't sure but that it would be reposted soon. It was uploaded that evening sans comments. The South LA watchdog site 2 Urban Girls says this fits a pattern of the city's social media team deleting negative comments from social media.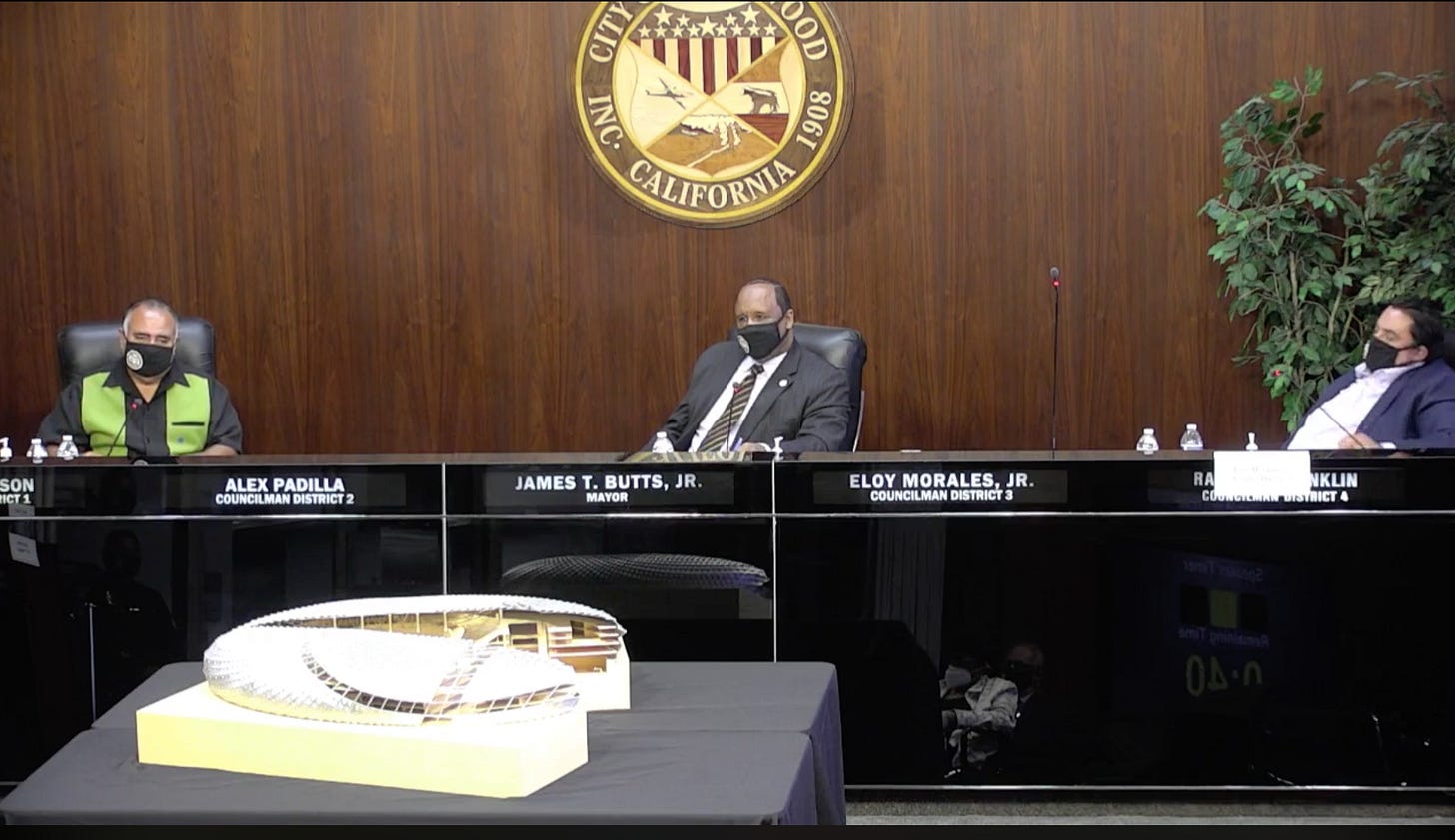 So, is anyone going to sue once the notice of determination is filed? I think Robert Silverstein, a lawyer notorious for EIR litigation, might sue on behalf of property owners near the arena who he represents. (He called into Tuesday's meeting to berate the city council for disregarding his complaints.) But my sense is those property owners are probably just looking to squeeze as much money as they can out of Ballmer, who threw $400 million at the most recent thing standing in his way.
Unfortunately, an environmental lawsuit filed by Inglewood residents seems unlikely, for a couple of reasons. First, the MSG/Forum settlement contained a provision that identified all the members of Inglewood Residents Against Takings and Evictions (IRATE), the coalition of Inglewood residents and organizations that opposed the arena. I have not seen the settlement, but I imagine that the reason to include this list in the settlement was to preclude those people from suing again later in the process. IRATE's opposition was essentially financed by MSG.
The second reason is because the other coalition that opposes the arena, Uplift Inglewood, is taking credit for the $100 million developer agreement with the city. D'Artagnan Scorza, the coalition director, told Unstatable in early March that while he still opposed the arena, he would not be pursuing further litigation against it. While you don't need any sort of coalition backing to sue the city — in fact, you don't even need to live in the city — that kind of thing does cost time and money. Nevertheless, the 30-day clearance period represents the big hurdle. Once that's over, the ship has left the port. (Groundbreaking on the arena is currently scheduled for 2021.)
Our previously scheduled programming
The NBA is back, if you hadn't heard, and writer/actor/producer Issa Rae (of HBO's Insecure) is partnering with the league to make you feel less awful about it. Rae is one of the most high-profile Inglewood products in the culture, so her endorsement of the NBA caught me by surprise.
Insecure, a critically acclaimed comedy about young Black professionals, largely takes place in Inglewood. The show's protagonist, played by Rae and named Issa, lives there, and Inglewood gentrification is a central theme of the show, if not a whole plot line. The character Issa is literally displaced from her apartment by a staggering rent increase in showrunner Issa's show! And showrunner Issa is now promoting the league that is an active force in that very-real displacement. I do not think Issa will be suing the Clippers to stop the arena.
This contradiction speaks to the complicated power dynamics and optics of resuming a Black-dominated sport in a still-raging pandemic that has ransacked Black communities, and amid a civil rights reckoning that has given Black athletes and entertainers new freedom to express their political views. While sports may have value as a distraction from society's great collapse and as a source of income for the few Blacks who do manage to rise from utter poverty to the top tax bracket (if billionaires can get richer during a pandemic, why can't NBA players go to work?), I do think the social impact of returning has been overstated. Putting Black Lives Matter on the court doesn't change the stakes of the game, or somehow make playing it more palatable, unless you're a rube. Put the body count on the court, imo. Scoreboard!
Clippers forward Paul George has been responding to all questions from the media with demands for Kentucky attorney general Daniel Cameron to arrest and charge Brett Hankison, Daniel Mattingly and Jonathan Cosgrove, who entered the home of a sleeping Breonna Taylor and killed her on March 13. I won't say that this is a convenient way to avoid media questions, but I do wish that reporters didn't say "okay, we'll wait for the next guy" when a player starts redirecting sports-related questions to the matter of justice for Taylor. In fact, I think both parties would benefit from asking George questions about Taylor, how he views the situation, what he makes of AG Cameron being Black, how his childhood in Palmdale informs his activism today. God forbid someone asks him whether the 2020 civil rights movement is undermined by the NBA's restart.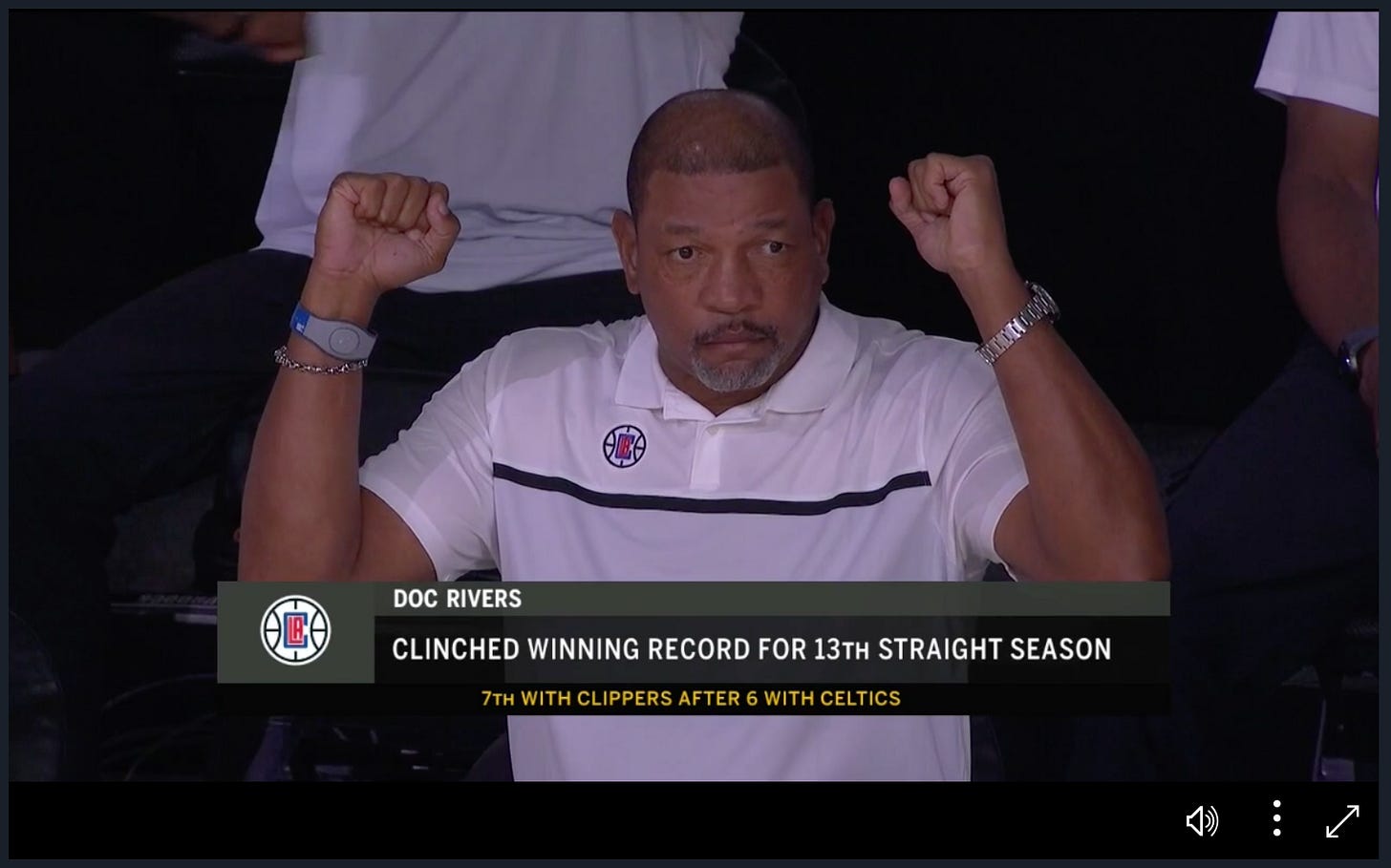 I guess my take on it is if they really want to resume play, so everyone can pick up their checks, and people can be distracted, then leagues shouldn't declare winners in sports this season. Play the games, sure. The NBA and MLB consuming hundreds, even thousands of tests every day as civilians struggle to access them tells you a lot about where our society is right now — a place where the wealthy can be comfortable and everyone else is lives on a knife's edge. It's not really professional athletes' fault for reflecting that.
But sports are, even before entertainment, a framework for determining and celebrating human achievement; they are an organizing structure for human expression. Creating rules, a playing field, appointing officials, forming leagues and scheduling seasons — we agree on these institutions so that we can agree on who was the best at a thing we, people, developed, at a moment in time. It's a way we appreciate ourselves — our disciplines and our freedom within them — our society.
Maybe it's a fantasy to pretend that our society was ever "civilized." But what we have now is a country whose defining characteristic is spite and a humanity with the collective will to destroy itself. An America that decided the deaths of tens of thousands of people older than sixty every month, the body count of 9/11 every weekend, was the best way through a pandemic. That decided — and continues to decide, day after day, ruling after ruling — that its most vulnerable people are, above all else, a liability. What is the function of declaring a champion in this context? What does it mean to be the best at sports in 2020? Who wants to stand atop the crushed remnants of a society we raced to destroy, wearing a crown?
USA coronavirus death count: 148,000 as of 7/24
---
Blog Roll
No Context NBA∙ Sideshow Books(Delivering to LA!) ∙ Stealing Home ∙ Same Old Clippers Pod ∙ QuarantineCast with Corbin Smith ∙ Bad Photojournalism ∙ Sports Stories ∙ Bachletter ∙ Basketball Feelings  ∙  RealGM Basketball Analysis ∙ The Second Arrangement ∙ Crane In Search Of Man ∙ The Shocker ∙  My Motherfucking LinkedIn Page ∙  Roundball Rock ∙ Fastbreak Breakfast ∙ Mouse House Books ∙ NBA4Free ∙ Giri's Racquet Newsletter ∙ Amazing Blaze ∙ Dreem Team Survivor Recap ∙ In Good Faith ∙ Entrepreneurship Today ∙ Jad's Dad Milo
---
Note: this newsletter was scheduled for Saturday morning delivery.